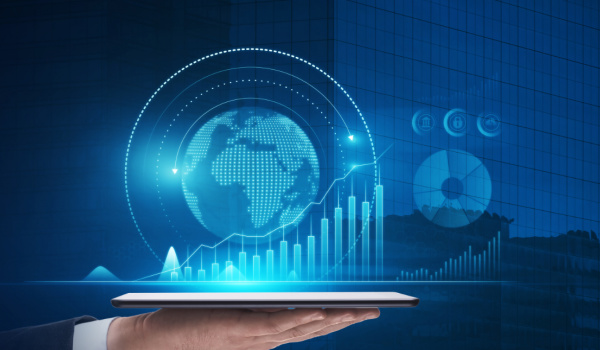 ---
By Christopher Robbins
This week in digital wealth there was a lot of activity on the margins, but not a lot from major players.
We still had some big-name news in wealthtech, where Broadridge announced some new hires, and payments, where Klarpay announced a major expansion of its cross-border capabilities.
We also wanted to call attention to Facet Wealth, a digitally powered investment advisory firm offering personalized financial planning to clients at every wealth level. It's worth mentioning that at one point earlier this year several influential financial voices were critical of Facet's model and its aim to take professional financial planning truly down market—but this year the firm has announced a successful fundraising round, made a few key hires and now reports eye-popping growth. It seems like Facet Wealth is on to something here.
Elsewhere, in crypto, we have a crypto-native, blockchain-oriented giving tech expanding its capabilities to accept charitable contributions in other types of assets, while in the personal finance and apps space we have Better partnering with Palantir to build a more fully automated lending system.
---
Wealthtech and Investments
Broadridge Financial Solutions—Broadridge announced the appointment of Eileen K. Murray as an independent member of its board of directors, effective September 1, 2022. Murray is currently the Chair of the Financial Industry Regulatory Authority (FINRA), where she has served on the Board of Governors since 2016. Her term as the Chair and member of the Board of FINRA is ending on August 19, 2022.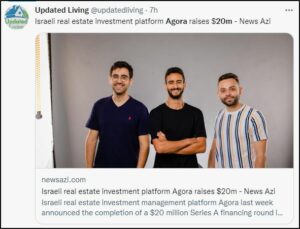 Agora—Agora announced it had raised a $20M Series A round led by New York-based global venture capital and private equity firm Insight Partners, with participation from Aleph. The funding round will be used to further enhance Agora's real-estate investment management platform, continue to expand the industry-specific financial products offered to customers, and to capture a larger market share. Agora is a fintech/SaaS company that helps real estate firms raise and preserve more capital by automating their back-office processes, increasing their investors' satisfaction, and providing them with advanced tools to optimize operational efficiency.
Banking, Payments and Infrastructure
Klarpay—Swiss fintech Klarpay AG has launched a cross-border business payment solution that can be managed via its payments dashboard or via a single API integration, reducing merchant clients' costs and speeding up their cross-border payments. This flexible cross-border business payment solution allows Klarpay clients to enter the global economy through secure international payments at a reduced cost as it provides seamless, efficient, and predictable payments across many markets.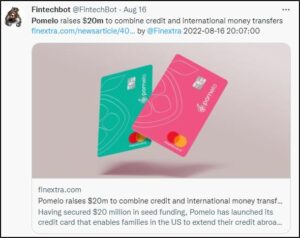 Pomelo—Pomelo announced a Series Seed of $20 million in venture capital and $50m in warehouse facility for a total of $70m in seed financing, and is the first company to combine credit and international money transfer. Pomelo also announced its official launch and availability to serve its first corridor, the Philippines. Keith Rabois at Founders Fund as well as Kevin Hartz, Co-Founder of Xoom and General Partner, at A* Capital led the round with Afore Capital, Xfund, Josh Buckley, the Chainsmokers, and the Weeknd also investing in the round.
Lumin Digital—Lumin Digital announced that Utilities Employees Credit Union (UECU) has signed a multi-year agreement for Lumin Digital's cloud-based online and mobile digital banking platform. Lumin will support UECU's more than 47,000 members and more than $1.4 billion in assets when the platform is launched in March 2023.
A cloud-native digital banking platform, Lumin Digital will provide UECU members with an integrated, customized experience that matches larger financial institutions' offerings. Focusing on service, user experience, safety, and security through sophisticated automation, Lumin Digital helps credit unions and financial institutions drive better engagement with their users through personalized recommendations. These include everything from spending insights and financial advice to fraud alerts and help with savings goals. Lumin also enables credit unions to provide users with real-time updates and new features that add value and simplify everyday banking.
Crypto, Blockchain and Digital Assets
Gate.io Group—Gate.io announced the launch of its over-the-counter trading platform Gate OTC, which will provide fully-licensed OTC crypto trading services catered to institutions and high-net-worth individuals. Services are offered in various countries around the world supporting several mainstream cryptocurrencies. The launch of Gate OTC comes as Gate MENA DMCC, Gate.io Group's Dubai-based company, acquired a license from the Dubai Multi Commodities Centre (DMCC) to engage in proprietary trading in crypto commodities. All services comply with United Arab Emirates regulations, including KYC, AML, and CFT regulatory standards.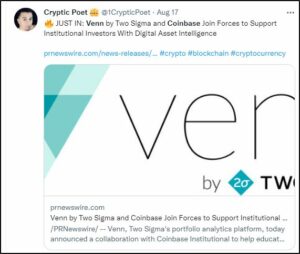 Venn—Venn announced a collaboration with Coinbase Institutional to help educate institutional investors on the digital asset space. The initiative aims to empower institutional investors with the insights needed to incorporate risk analysis of digital assets into their capital allocation frameworks.
These efforts will launch with a joint webcast Putting Crypto Into Context – Tools & Frameworks for Asset Allocators to Evaluate Digital Assets on Wednesday, September 14th 2022. The webcast will explore how to build a risk and allocation framework to analyze digital assets as part of an institutional portfolio
The Giving Block—will begin offering stock and card donation processing capabilities beginning in Fall of 2022. The stock and card donation processing options will be available to the 2,000+ nonprofit customers subscribed to The Giving Block's flagship crypto fundraising solution.
By launching this expanded suite of fundraising solutions, The Giving Block makes it easier for nonprofits on the platform to effectively engage and fundraise from young, digital-native Gen Z and Millennial donors across crypto, stocks and cash. The card options will be powered by The Giving Block's parent company, Shift4, and will include credit card, debit card, Apple Pay and Google Pay, with ACH, PayPal and Venmo options available later in the year.
Fintech, Apps and Personal Finance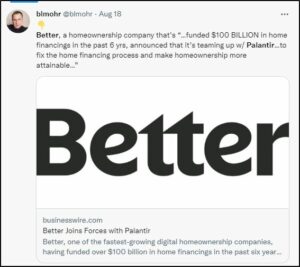 Better—Better announced that it is teaming up with Palantir, a builder of operating systems for the modern enterprise, in support of its mission to fix the home financing process and make homeownership more attainable for all Americans. The partnership will initiate the launch of Tinman Marketplace, the next evolution of Better's proprietary loan platform, which automates 70% of the mortgage process. Tinman Marketplace will be powered by Palantir's Foundry operating system.
Facet Wealth— Facet Wealth announced it has ranked 46th on the prestigious Inc. 5000 list of America's fastest-growing private companies. After being named the second fastest growing firm in the mid-Atlantic earlier this year, this marks the latest honor Facet has received for its staggering 7,383 percent growth over the last three years.
---