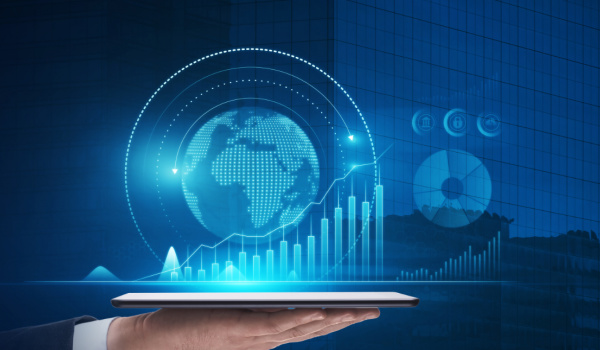 ---
By Christopher Robbins
This week in digital wealth we had a lot of wealthtech activity. So much, in fact, that some of the tastier morsels have spilled over from Advisor Tech Talk into this column this week.
For example, Vise, a portfolio customization platform, announced two new RIA clients, and Marstone launched an institutional health and wellness platform.
In other news, it was also a busy week in the crypto space, one of the more interesting and likely overlooked headlines was that Singapore-based Haru Invest is preparing the way to bring its holistic investment and financial services platform to the U.S.
Finally, in banking, payments and fintech – and also in crypto – there was a wave of news from charitable giving platforms, here represented by PayPal's announcement of its new Grant Payments donor-advised fund functionality.
---
WealthTech and Investments
Vise—Vise announced that RIAs Greenstone Wealth Management and CPR Financial and Insurance Services are using the Vise platform. The news comes at a time when advisors are craving more tech and automation to drive efficiency in their businesses. According to a recent Accenture study, 87 percent of advisors want to use more AI tools day-to-day.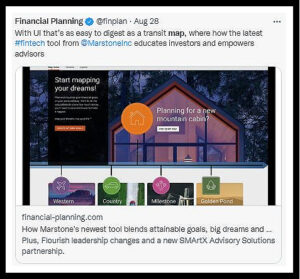 Marstone—Marstone announced Marstone Maps, a financial health and wellness platform for institutions that enables end clients to set, plan for, and evolve their financial goals. Benefitting from a dynamic, digital-first solution, end clients are offered strategies from Marstone's team of industry experts to meet their unique financial situation and ambitions. Marstone Maps is launching with its first institution to provide sophisticated, personalized, and transparent financial health and wellness experiences to existing and new clients without both the technical lift and material expense of building an in-house solution.
ICapital—iCapital announced they entered into a definitive agreement whereby iCapital will acquire UBS Fund Advisor LLC, UBS's legacy proprietary US alternative investment manager and the feeder fund platform it manages. The platform, generally referred to as "AlphaKeys Funds," represents more than US$7 billion in client assets. With this transaction, iCapital will assume the management and operation of the platform, which includes private equity, hedge fund and real estate feeder funds. UBS Financial Advisors will continue to serve their high and ultra-high net worth clients that hold feeder funds as they always have, providing advice and solutions to help meet their unique needs and financial goals.
Fintech, Personal Finance and Apps
Summer—Summer, a certified B Corporation that advises hundreds of thousands of student loan borrowers across the country, has launched Forgiveness Eligibility Check that allows borrowers to check their loan forgiveness eligibility in real time. Based on an individual's household income as well as a detailed look at their loan information, the Summer platform can tell borrowers instantly whether they qualify for at least $10,000 of loan forgiveness, and assess their eligibility for other important loan assistance programs like Public Service Loan Forgiveness (PSLF) and income-driven repayment (IDR) plans.  
Banking, Payments and Infrastructure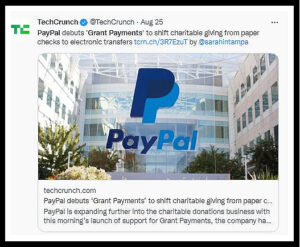 PayPal—PayPal announced Grant Payments, a new product that enables Donor-Advised Fund (DAF) sponsors, community foundations and other grantmakers to deliver grants to charities quickly and electronically via PayPal. Grant Payments will enable charities to receive grants shortly after the funds have been approved by the grantmaker. Both grantmakers and charities will have access to all available grant details, including donor information when provided, via a PayPal dashboard. Eligible and participating charities have been vetted per PayPal's strong compliance standards.
Onbe—Onbe and Equity Trust Company announced their recent partnership to modernize how investors pay real estate expenses within their self-directed individual retirement account (IRA). Expense Pass, managed by Onbe on behalf of Equity Trust, eliminates the need for traditional checks and ACH, and delivers a modern, agile disbursement program via virtual and physical cards, reducing the time to deliver funds for Equity Trust real estate investors. The Expense Pass virtual and physical cards offer property owners fast access to funds to improve their real estate properties or to pay property bills, including condo fees or utilities. Additionally, they can be linked to investors' mobile wallets and are accepted at retail stores across the country.
Crypto, Blockchain and Digital Assets
Cogni—Cogni announced a new addition to its leadership team. Simon Grunfeld, a seasoned product innovator in the cryptocurrency and NFT industries, is joining Cogni as VP of Web3. In this role, Grunfeld will lead the platform's Web3 expansion to seamlessly provide users access to services across traditional banking, crypto, NFTs, gaming, and the metaverse. Grunfeld, a founder and entrepreneur, brings a wealth of global experience across a broad spectrum of industries ranging from blockchain, fintech, and capital markets to his executive role. His start in capital markets began as the founder and owner of Gallant VPS and Gallant FX, a PaaS world leader in Forex trading technologies serving both retail and institutional clients.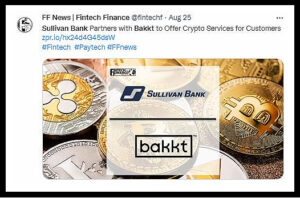 Bakkt—Bakkt announced that Sullivan Bank has partnered with Bakkt to leverage Bakkt® Crypto Connect to soon enable Sullivan Bank customers to buy, sell and hold bitcoin and Ethereum. Founded in 1895, Sullivan Bank serves their communities with the mission to build strong customer relationships, improve services and explore new opportunities for customers. This partnership with Bakkt falls in line with Sullivan Bank's mission to bring new opportunities to their SulliFam and better serve their needs and increase engagement.
Haru Invest—Haru Invest announced that Haruus LLC, its U.S. incorporated subsidiary, has acquired a Money Service Business (MSB) license, a financial service license supervised and granted by the U.S. Financial Crimes Enforcement Network (U.S. FinCEN) mandatory for any digital asset-related service providers to conduct their businesses in compliance with U.S. regulations. As an official MSB across all 50 U.S. states, Haru Invest is now approved to carry out operations as a money transmitter service — including digital assets such as cryptocurrencies — and expand its scope of service in the country.
ITrustCapital—Crypto IRA provider iTrustCapital announced announced reaching $6 billion in total transaction volume. This growth represents a 200% increase after tipping $2 billion in transaction volume in July of 2021.
---