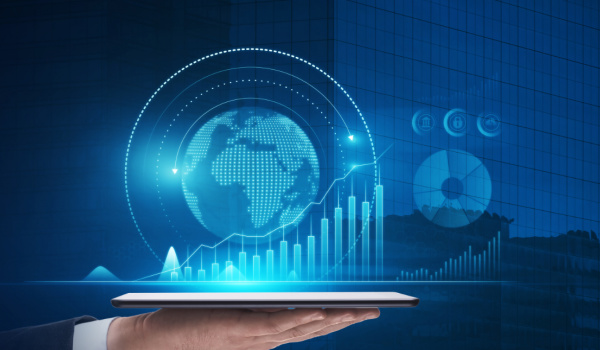 ---
By Christopher Robbins
It was a wild week in financial markets, and a wild week in digital wealth. One so busy, in fact, that in the name of balance we left of some smaller announcements in the realms of crypto and even wealthtech,two areas we try to cover as completely as possible.
This week in the realm of crypto and blockchain we have crypto exchange OKY, based in the Seychelles, trying to boost its brand awareness outside of Asia, while in fintech and personal finance we have active-investment-driven digital investment service Titan, which has received high marks for portfolio performance, beefing up its technology offerings and adding private market investments.
In the banking and infrastructure space, Truist is launching a new digital assistant, while in wealthtech news, BetaNXT has snagged a veteran in the wealth management space in Broadridge's Dan Ciavarella. Speaking of Broadridge, here's an extra tidbit: The company is now partnering with Coinbase to build out additional infrastructure for digital asset trading.
The digital wealth news is moving awfully fast—let us help you keep up:
---
Blockchain, Crypto and Digital Assets
OKX-OKX, the world's second largest crypto exchange by trading volume, announced the launch of its "What Is OKX?" global brand campaign. With less than 15% of traders outside of Asia familiar with OKX, the company is introducing itself to the greater global market as one of the most powerful crypto trading apps in a series of videos featuring Manchester City F.C. manager Pep Guardiola, McLaren Formula 1 driver Daniel Ricciardo, and Olympic medalist Scotty James. The campaign is underpinned by OKX's plan to expand its customer base beyond Asia, a market where over 65% of traders recognize the brand as a crypto app.
IHeartMedia—iHeartMedia opened the gates to iHeartLand on Roblox, pioneering a destination in the rapidly-expanding metaverse. iHeartLand is a place where gaming,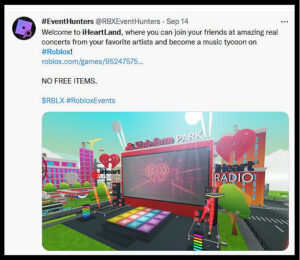 live events, never-ending entertainment, music and talent converge to offer fans a premiere interactive experience. Users on Roblox will become music tycoons by collecting sound energy throughout iHeartLand to power their own customized music studio as well as unlock upgrades, fan experiences and rewards. Users can also visit different branded spaces like the State Farm Neighborhood featuring Jake from State Farm and Intel House of Wonder to engage with other avatars, play games and more.
Front-Front, a company offering emerging FinTechs real-time access to investment portfolios and hassle-free crypto transfers across exchanges, launches Front API on Product Hunt. Front allows emerging FinTech companies access to a unique network of 250+ global integrations with brokerages and exchanges. Front API has been in stealth mode since July 2022, and already has paying customers on production.
Fintech, Personal Finance and Apps
College Raptor—Citizens Financial Group announced a definitive agreement to acquire online college planning platform College Raptor, Inc.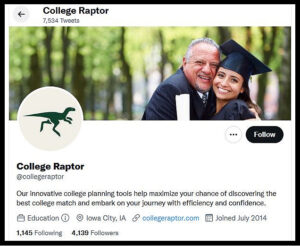 Terms were not disclosed. College Raptor, founded in 2012 and headquartered in Iowa City, is an innovative college planning platform that matches prospective students to schools based on both academic and financial fit. It offers robust content and tools to help prospective students evaluate and select a college, including side-by-side comparisons of estimated aid packages, as well as campus match scores and admission chances. Upon the closing of the transaction, it will operate as a wholly-owned subsidiary of Citizens.
Titan—Titan announced a significant expansion and evolution of its actively managed investment platform to launch private market and alternative investing opportunities for its clients. In addition to managing its own strategies, Titan's evolution will introduce new global asset management firms and asset classes that, before today, have typically required high minimums or accreditation to invest in. Additionally, Titan's reintroduction will also welcome the launch of the Titan Reco Engine which will provide clients with a more robust and personalized wealth management experience. Starting today, Titan is able to recommend private credit and institutional real estate investments to client portfolios with Titan continuing to introduce additional new asset classes and premiere access to top funds in the coming months.
Banking, Payments and Infrastructure
Lumin Digital—Lumin Digital announced that Pennsylvania-based Citadel Credit Union has signed a multi-year agreement for Lumin Digital's cloud-based online and mobile digital banking platform. Lumin will support Citadel's 245,000-plus members and $5 billion in assets when the platform is launched in 2023.
A cloud-native digital banking platform, Lumin Digital will provide Citadel members with an integrated, customized experience. Focusing on service, user experience, safety, and security through sophisticated automation, Lumin Digital helps credit unions and financial institutions drive better engagement with their users through personalized recommendations. Lumin also enables credit unions to provide users with real-time updates and new features that add value and simplify everyday banking.
Truist-Truist Financial Corporation announced the launch of Truist Assist in its mobile banking app and online banking platform for personal banking (retail and wealth) clients. This AI-enhanced virtual assistant is the bank's latest example of its T3, or technology-plus-touch-equals-trust strategy, which combines innovative technology with personalized human touch to heighten client satisfaction and trust.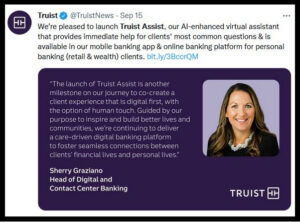 The digital assistant leverages natural-language processing (NLP) and natural-language understanding (NLU) to help answer clients' questions and provide financial information in digital channels. This self-service channel embeds Truist contact centers as part of the experience, providing clients with a frictionless transition from their virtual assistant to a Truist teammate when their request warrants a deeper level of support.
WealthTech and Investments
BetaNXT—BetaNXT announced that Dan Ciavarella is joining the company as Head of Sales and Relationship Management. A seasoned sales and marketing veteran, Mr. Ciavarella will report directly to BetaNXT Chairman and Chief Executive Officer Stephen C. Daffron. Most recently head of sales for the Wealth Management Segment at Broadridge, Dan Ciavarella is a proven leader with a track record of success in building and developing teams to deliver results in both large global and small entrepreneurial wealth management businesses. With over 20 years of industry experience, he has held numerous senior leadership positions in product development, marketing and sales, delivering financial technology solutions to meet the needs of some of the largest firms in the industry.
F2 Strategy—F2 Strategy announced the launch of its Executives-in-Residence (EIR) program, comprised of a legendary team of industry experts and former wealthtech executives that will further innovation for the industry at large. These professionals have gained a great amount of experience in their careers and join F2 as they transition toward a new venture or as they are looking toward their next chapter upon retirement. The EIR program offers C-level executives a unique opportunity to network and drive change outside of the traditional corporate full-time role structure. While in the program, EIR professionals can engage in cutting-edge client work, research, or mentorship, depending on their current career goals and passions.
NewRetirement—NewRetirement announced that Nationwide has deployed the Company's financial projection engine to power its My Interactive Retirement Planner. Leveraged by over 2 million active participants as of August 23, 2022, the solution helps deliver enhanced retirement readiness to more effectively view both accumulation and decumulation planning to help provide a clearer path to and through retirement.
FPAlpha—FPAlpha announced their integration with PreciseFP, which will allow advisors to expedite their workflows by auto populating the client data they have in their platforms in FP Alpha and turn it into actionable advanced planning. This integration allows critical data such client details, assets, liabilities, and insurance policy information to be imported from PreciseFP, a leader in data gathering and onboarding of clients, flowing directly into the FP Alpha platform to further automate the advanced planning process.
---