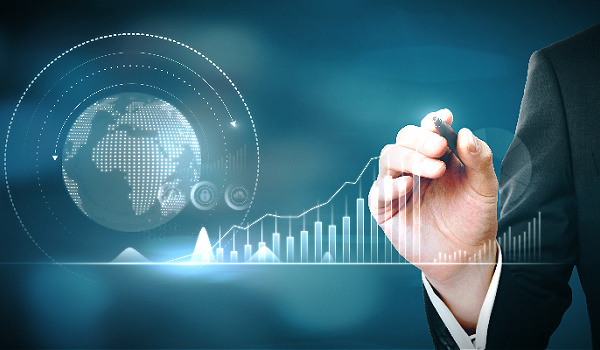 ---
By Chris Robbins

This week in digital wealth there were a number of seemingly small announcements with potentially larrge impacts. One of which was the announcement by Circle that it would support its Euro Coin stablecoin on the Solana network.
In the world of payments and financial infrastructure, mega-conglomerate Honeywell will make new inroads with a payments solution, while in personal finance and apps super-incumbent MoneyGram is entering the crypto business.
We close this week with the evolution of a trio of insurance- and real estate-linked fintechs. Let's get to the headlines.
---
Crypto, Blockchain and Digital Assets
Bitcoin.com
Bitcoin.com announced that the public sale of the VERSE utility token is now live. VERSE will reward participants for buying, selling, storing, using, and learning about cryptocurrency, while supporting those who are seeking accessible onboarding into Bitcoin and DeFi.
VERSE will fuel the growth and expansion of Bitcoin.com's ecosystem, which includes over 34 million self-custody wallets created in its multi-chain DeFi-ready mobile app, and an award-winning news portal with over 2.5 million monthly readers. VERSE will provide access to exclusive platform services and act as the cornerstone for new initiatives, ultimately expanding access to decentralized technologies and finance. By interacting with the Verse DEX, staking VERSE, receiving cash back in VERSE, and using the VERSE token as collateral in various lending pools, Bitcoin.com's millions of users will be able to take full advantage of their time spent engaging with the platform.
Circle
Circle, a global digital financial technology firm and the issuer of USD Coin (USDC) and Euro Coin, announced plans to expand native support of Euro Coin and access to their new permissionless cross-chain infrastructure, Cross-Chain Transfer Protocol, on Solana in the first half of 2023. The announcement marks the company's first in a series of intended commitments to provide expanded support for both initiatives since their respective launch announcements in June and September.
A regulated, euro-backed stablecoin, Euro Coin is issued under the same full-reserve model and built on the same pillars of trust, transparency, and security that have made USDC one of the world's most widely-used dollar digital currencies with over $42 billion in circulation as of November 4, 2022. Together, Euro Coin and USDC aim to bring faster, inexpensive transactions to global commerce and unlock new opportunities for multi-currency digital finance and on-chain foreign exchange (FX), where daily volume in traditional markets can top $6.6 trillion globally.
Stablehouse
Stablehouse announced a white label integrated digital asset and trading solution partnership with Apex Group, a global financial services provider. Through this new partnership, Stablehouse's custom white label platform will allow Apex Group's clients to participate in, and offer Stablehouse's institutional liquidity, trading and investment solutions to investors.
Fintech, Investing and Apps
Broadridge
To better support European asset managers in meeting their compliance obligations for the upcoming Sustainable Finance Disclosure Regulation, Broadridge Financial Solutions announced the launch of its new end-to-end managed service solution.
Starting January 1, 2023, SFDR requires asset managers to consider and disclose in a consistent manner how ESG factors are adopted in their decision-making processes. For Articles 8 and 9 funds, this includes a Pre-contractual Disclosure, Periodic Disclosure and Website Disclosure. Additionally, starting June 30, 2023, asset managers will also be required to produce a Principal Adverse Impact statement to determine the impact of their investment decisions on sustainability factors.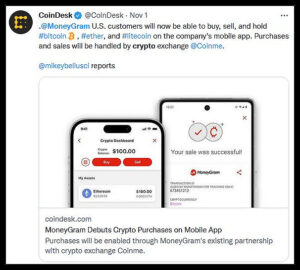 MoneyGram
MoneyGram announced the launch of a new service enabling consumers to buy, sell and hold cryptocurrency via the MoneyGram mobile app. This new and innovative feature gives MoneyGram customers in nearly all U.S. states and the District of Columbia1 the ability to trade and store Bitcoin (BTC), Ethereum (ETH) and Litecoin (LTC) by using the Company's mobile app.
Public.com
Public.com announced plans for a global launch in Q1 2023. The phased roll-out will make Public's app available to a range of international markets. Investors around the world will be able to convert their local currency into the U.S. dollar within the platform to invest in their choice of thousands of assets.
International members will also have access to Public's investor and analyst community, as well as contextual information about their portfolios in the form of daily live shows, reports, and unique business metrics. International investors can also access extended market trading for additional flexibility outside normal U.S. market hours.
Insuretech, Proptech and Real Estate
Hexure
Insurance Technologies, LLC, a provider of sales and regulatory automation solutions for the life and annuity industry, announced today its new company brand Hexure [heck-sure] to enable sharper strategic focus on leading the insurance, financial services and wealth management industries.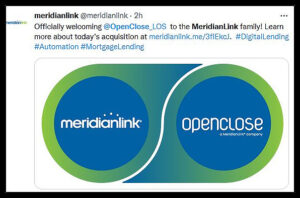 MeridianLink
MeridianLink announced it has completed the acquisition of OpenClose, a fintech provider of residential mortgage software solutions for banks, credit unions, and independent mortgage lenders. The acquisition will enable customers to deliver seamless digital lending experiences to consumers, while reducing costs and time to close. The deal will also support the continued market expansion of MeridianLink's full system capabilities serving depository organizations.
MeridianLink is committed to ongoing innovation and will continue its investment in both the OpenClose and MeridianLink Mortgage (formerly known as LendingQB) LOS solutions, giving customers more choices for award-winning digital lending offerings. The OpenClose and MeridianLink Mortgage workflow-driven solutions offer market-leading digital loan origination systems (LOS), point-of-sale (POS), product and pricing engine (PPE), and business intelligence (BI) functions, with easy access from any browser or mobile device.
Sharestates
Sharestates announced the expansion of its loan limits to fund real estate developers seeking up to $75,000,000 for Multifamily, Mixed-Use, and Commercial development. Sharestates has filled a void left by many traditional lenders to provide capital to small and mid-sized developers, and as the company's client portfolios grew, it became necessary to increase its loan limits to be able to continue to serve its customers.
Payments, Banking and Infrastructure
Fullsteam
Fullsteam announced it has hired Charles Freund to be the company's Chief Financial Officer. Mr. Freund brings nearly two decades of experience in corporate finance and strategy to Fullsteam. He most recently served as CFO of global corporate payments company FLEETCOR Technologies (NYSE: FLT), where he led all aspects of the company's financial management and reporting. Prior to this, he held several leadership roles at FLEETCOR, encompassing corporate development, strategy, sales and P&L management. Mr. Freund began his career as a consultant at Sibson Consulting, where he advised clients on developing successful business strategies.
GiveX
GiveX announced the appointment of Divya Kulkarni to its Board of Directors. Kulkarni has more than 20 years of sales, marketing, PR, finance, audit and general management experience. She began her career at GE, where she held progressive leadership roles in Finance and Audit across Asia, Europe, Australia and North America, as part of the elite Global Audit Team. Following GE, she created the Internal Audit Division for global mining companies Noranda and Falconbridge and served as a Board Member for a Noranda/Falconbridge joint venture.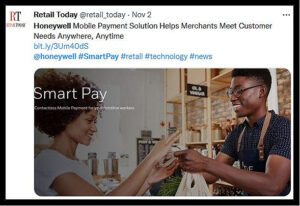 Honeywell
Honeywell announced the release of Honeywell Smart Pay, a contactless software payment solution enabling the company's powerful mobile computers to become secure and compliant payment terminals, accepting contactless mobile payments from anywhere a business sells or delivers goods and services.
Honeywell Smart Pay gives sales associates and service employees the power to finalize payments on-the-spot in retail, parcel delivery, public transportation services and other businesses where mobile payment can be used.
Mbanq
Mbanq onboarded Carbon Blanc as its first environmental sustainability FinTech client with an innovative business model that focuses on global green bond and carbon offset markets. Carbon Blanc is a FinTech that connects customers with sustainable energy digital banking services to create positive social impact. By combining CleanTech with finance, it offers consumers new ways to benefit from a proprietary, cutting-edge energy management system.
Working with Mbanq, Carbon Blanc will embed financial services to provide digital banking products, including checking and savings accounts, cards and payments, and perks to incentivize eco-friendly consumer habits. 
---