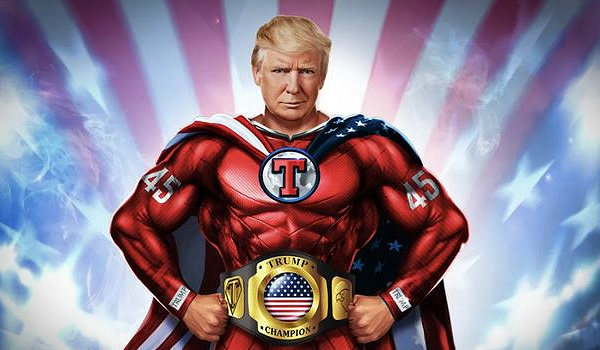 ---
By John Sarson
Love or hate the former President, there is no denying that he is a master community builder. Having previously said that he's "not a fan" of Bitcoin and that it is "based on thin air", he seems fine with using Bitcoin's technology for the creation of an equally ephemeral but profitable web3 community.  This community is built around the NFT-based Trump Digital Trading cards shown above. The cards which sold originally for $99 each depict Trump as a superhero, astronaut, boxer and more.  Each card has an algorithmically generated combination of traits (i.e. hat or no hat) that makes each card unique.

 Trump said of his project on Dec. 15th, "Collect all of your favorite Trump Digital Trading Cards, very much like a baseball card, but hopefully much more exciting. Would make a great Christmas gift. Don't Wait. They will be gone, I believe, very quickly!" And he was right about that, they were all sold in less than a day, netting over $4mm in sale proceeds.
When considering the seeming about-face in his stance on crypto, both as an advocate for emerging technologies generally and as a founding member of the American Crypto Academy, I say to our 45th President, "Apology accepted!".
It's this author's opinion, that this is a classic example of the undeniability of crypto's value proposition for businesses. In this case, cryptocurrency's technology was able to create a monetizable business where there wasn't one before.
So, what is Trump doing with these digital trading cards, you may wonder?  There are many possible answers to that, but below we will share a few possible business ideas that Trump may be exploring.
Fund Raising: The sale of 44,000 Trump NFTs (1,000 of the total 45,000 created were retained by Trump) raised over $4 million in a few hours. However, the real money from the collection sale might be found in the resale market.
A Gift that Keeps on Giving: As you can see in the below image, Trump NFTs carry a "creator fee" of 10%.  This creator fee means that each time an NFT in the collection trades hands, 10% of the sale proceeds go back to the artist or creator, in this case Trump.  This is a very useful feature for artists as it keeps them forever associated with their art and allows them to benefit financially as the value of their art increases.  No longer will a starving-artist watch their art trade for millions without being able to participate in the value accretion.
The creator fee works well to align the interests of an NFT-based community too.  It incentivizes the community manager to create lots of value for the community, value that will cause the price of the membership cards to rise, and along the way, change hands many times, returning the creator fee to the issuer.  (Just don't call it a tax!)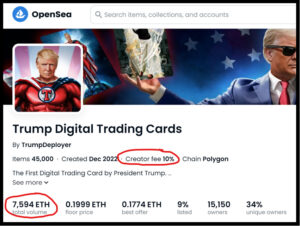 Trumps cards, like all NFTs, are denominated for resale in Ethereum (ETH). They are listed on Opensea.io, the largest online marketplace for trading NFTs.  Having traded a total volume of 7,594 ETH in just the first 11 days of trading, 10% of this amount or 759.4 ETH (worth $924,500) has been paid to the creator.  As price of the NFT increases, so too will the velocity of transactions and the value of creator fee.  This incentivizes Trump to continuously offer more value (or utility in traditional NFT speak) to the NFT-card carrying members of this community.
I'll write more in future articles about ways that Trump and other NFT-based communities are delivering the type of utility to their holders that cause their NFTs to become and stay valuable.  Trump's community is far from the most valuable in NFT land.  That distinction goes to the Bored Ape community, a collection of 10,000 NFTs that are also a computer-generated collection (like Trump's) and currently trade at over 74 ETH or $90,000 each.  That said, the utility offered to a Bored Ape holder is very different from that offered to a Trump NFT holder. Trump's offers of invites to Mar-a-Lago and golf outings with the former president for certain NFT holders certainly indicates that Trump understands the value of bestowing tangible value on his community "built on air".
---