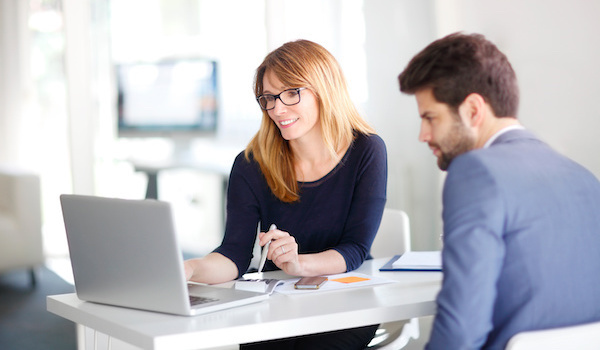 ---
By: Larry Reiter, Vice President, Client Solutions | Docupace
Gathering client data upfront is a critical, but often unnecessarily difficult, first step of any financial advisor-client relationship. Too often, wealth management firms still rely on spreadsheets, paper or fillable PDFs, disparate file folders, and even physical forms for signatures. If that sounds like your advisory firm, this article offers simple, implementable ways you can start realizing a better way of gathering client data.
In today's digital era, providing a modern client experience is how firms differentiate themselves from the pack. To take the first step, wealth management firms should seriously consider using the best technology for their document management and client engagement needs.
Decide It's High Time for Change 
The first and major case for going digital when it comes to client data gathering is that clients believe advisors aren't digital enough. In a McKinsey survey, 50% of investors said their primary wealth manager needs to improve their digital capabilities across the board.
The second reason for digitizing the client data gathering process is that it saves advisors time they desperately need to focus on clients and prospects. McKinsey estimates that relationship managers in the financial services sector spend a whopping 70% of their time on non-revenue-generating activities.
After all, most advisors are still working with outdated technology systems or even spreadsheets. Increasing regulatory and compliance requirements have only added to the issue.
Additionally, two serious problems stopping financial advisors from spending more time on advisory activities include:
No unified platform to use for managing client data and administrative tasks
A high degree of manual data processing in multiple systems
Its high time financial advisors radically reimagine the client engagement experience to belong in the digital-first world. Clients want a digital onboarding experience, and it's up to financial advisors to provide one.
Best Practices for Client Data Gathering in the Digital Age
Gathering client data presents a real task for wealth advisors as they tackle the enormous amount of information they need upfront while still being mindful of the client's experience. After all, learning every facet of a client's financial life requires a lot of energy and time for both the client and advisor.
In order to save precious time and energy for advisors and clients, here is a list of best practices when it comes to gathering client data:
Don't forget about the back office experience for advisors. As we've already learned, advisors spend the bulk of their time on tasks like paperwork and compliance work. Firms shouldn't lose focus on keeping their advisors and staff happy by avoiding onerous data entry with siloed and disconnected systems and processes.
Let clients choose their digital path. Your digital client data gathering tool should allow clients to use their phones, tablets, or laptops when sending their data.
Prefill data where you can. If you already have some existing data for your client, prefill the questionnaire and definitely do not make them enter it multiple times when filling out digital forms.
Tailor your forms to the client experience. Specific and tailored fact finders help personalize the data gathering experience, increase credibility, and save time.
Make your digital experience a one-stop shop. Don't force your client to use numerous logins in the process. A digital one-stop shop for all forms, onboarding agreements, signatures, and other assessments is a great way to increase client engagement.
Keep in touch. Engage your clients throughout the year. Simplify your touch points with a single engagement tool, reducing the time consuming and scheduling difficulties of in person and phone meetings.
Don't forget about security and compliance! A client data gathering tool should make your life easier, not harder. Good tools will provide audit trails, compliance updates, and secure data processing so you and your clients know their information is safe.
Simplify Data Gathering With Docupace and PreciseFP
PreciseFP and Docupace offer a revolutionary change of pace for wealth management advisors looking to upgrade their client data gathering processes and document management systems.
On average, PreciseFP saves financial advisors 40% of the time they would have spent developing a financial plan with traditional methods. Their forms are simple, attractive, and designed to help prospects and clients fill out their information faster and more easily.
With an extensive forms library, bi-directional integration with CRM and Financial Planning systems, and a digital client engagement tool that connects with clients where they already are online (LinkedIn, social media, advisor websites), PreciseFP can help advisors eliminate the drudgery of client onboarding.
Meanwhile, Docupace helps wealth advisors keep their documents organized, compliant, and easily accessible. Learn more about Docupace and PreciseFP here.
---