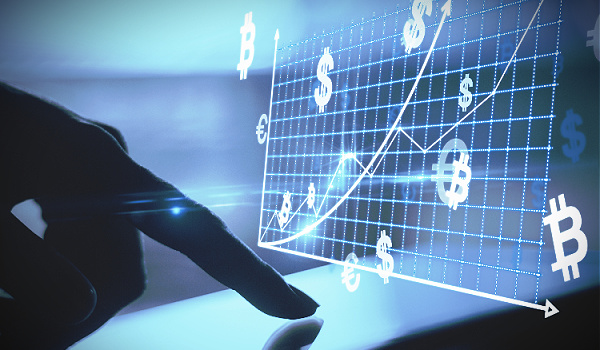 ---
By Christopher Hamman
As Spring approaches, the US economy faces several uncertainties, with Treasury Yields falling lower than expected. 
South Dakota's legislature seems bent on redefining commerce with the prohibition of cryptocurrencies as money.  
Stripe and Wix increased payment accessibility for iPhone users with contactless "Tap to Pay" functionality, and the Project Amber Consortium has fallen into oblivion, or so it seems. 
Here's your week in Digital Wealth!
---
WealthTech, RegTech and Treasury
Project Amber
Based on information from several sources, the sell-side firms and financial institutions involved with Project Amber abandoned it last year, with three banks reportedly pulling out.
Participating organizations conceived Project Amber as a potential competitor to trading platforms in the fixed-income industry, and was backed by a consortium with connectivity and effective execution management in the bond markets as targets.
Project Neptune, a 2015 buy-side effort backed by banks that linked dealers and clients, preceded Project Amber.
Man Group/Bloomberg 
Bloomberg and Man Group agreed to develop, over the next few years, ArcticDB an open-source, Python-driven database product that addresses the various office research issues buy-side and sell-side institutions face. 
The product will be deployed on Bloomberg's BQuant. 
TransF ICC
Fixed Income and Derivatives solutions provider TransF ICC announced the launch of its eTrading service in response to improving Request For Quote (RFQ) processes. 
The eTrading service integrates a desktop GUI with price APIs and IRS channels over secure connections. 
The service also allows for seamless deployment for financial institutions in less than 14 days. 
Crypto, Blockchain and Digital Assets
South Dakota State House of Representatives
The South Dakota State House of Representatives introduced a 117-page amendment to the Uniform Commercial Code (UCC) that limits using cryptocurrencies as money. 
Central Bank Digital Currencies (CBDCs) were exempted. 
Goldman Sachs 
Goldman Sachs indicated its readiness to expand its digital asset team as it introduced "GS DAP", its global tokenization blockchain solution. 
The privately owned and operated blockchain completed successful trials in Hong Kong in a $100 million green bond sale.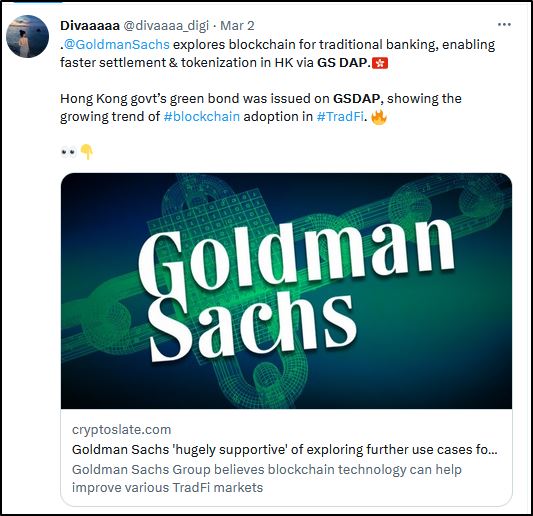 Fintech, Personal Finance and Apps
Consumer Financial Protection Bureau (CFPB)
According to a recent survey from the CFPB, "a majority of BNPL borrowers would face credit card interest rates between 19% and 23% annually if they had chosen to make their purchase using a credit card."
They also mostly have average credit scores of 580-669 in the subprime category. 
Most BNPL users only have fallbacks if they make payments on time. 
Wix/Stripe
Popular all-in-one website, hosting, and design platform Wix and Stripe have partnered to deploy "Tap to Pay" capabilities for iPhone users who are US-based merchants on the Wix platform.
The solution will enable seamless payments on the go from contactless debit and credit cards without extra hardware.
RiskSpan
Cloud-based analytics solutions firm RiskSpan revealed the addition of Flexible Loan Segmentation to its data analytics platform, Edge. 
This enables users to choose between loan analysis and representative analytics for bias-free and optimal results. 
It also allows for optimal computational costs and improves the decision-making process for financial professionals. 
Banking, Payments and Infrastructure
US Senate/Zelle
Five Democratic Senators, Robert Menendez-Ohio Jack Reed- Rhode Island, Mark Warner-Virginia, Elizabeth Warren-Massachusetts, and Sherrod Brown-Ohio wrote the Office of the Comptroller of the Currency, the Federal Reserve, the FDIC, and the National Credit Union Administration over the fraud risks posed by Zelle's business model. 
According to the Senators, Zelle's ease of use enables seamless payments, but there needs to be a focus on compliance with AML and consumer protection laws. 
First Fidelity Bank (FFB)/Episode Six (E6)
Oklahoma-based First Fidelity Bank revealed the launch of its new Banking-as-a-Service (BaaS) platform, developed in partnership with Episode Six (E6), a top-tier banking and payment solutions provider. 
The low-cost solution allows for all kinds of flexibility, including
real-time payments, card issuing and processing, extended KYC/AML capabilities, and fraud detection and control mechanisms. 
Unifimoney, a digital wealth management solutions provider for community banks and credit unions, has been onboarded on the platform. 
Remitly
Seattle-based Remitly announced the shutdown of Passbook, its immigrant-focused banking app. 
During an earnings call, CEO Matt Oppenheimer revealed a shift in corporate strategy and a focus on other products within the payment giant's ecosystem. 
He also indicated that the app's features will be integrated into other products and services. 
Remitly will disable deposits on Passbook on March 23 besides the MoneyBoost service channel. Debit cards will be scrapped on April 20, and the service will send funds not drawn down back to customers after account closures on May 1.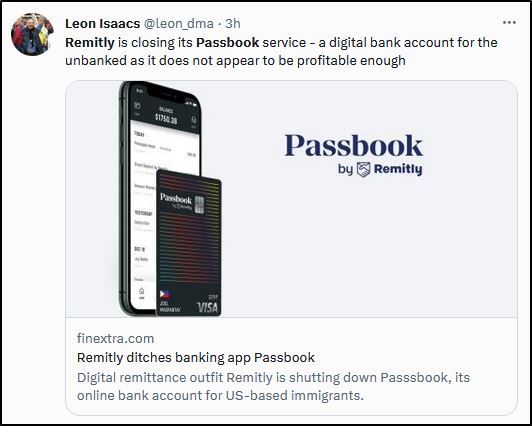 REtech, Insurtech and Investing
Sure/Esusu
New York-based Sure partnered with Esusu, a FinTech that utilizes rent reporting as a basis fr credit building for renters insurance. 
Per the partnership, Esusu will provide renters insurance via Sure's platforms and will enable improved financial aspirations for underserved communities.  
Esusu provides rent data to the "big three" credit bureaus, including Experian, Transunion, and Equifax.
AXA XL/Document Crunch
AXA XL, the American subsidiary of the global insurance giant, partnered with contract SaaS firm Document Crunch to provide contract benchmarking for the construction insurance industry. 
Per the partnership, Document Crunch's data mining capabilities will improve negotiation conditions and enable the identification of trends, insights, and opportunities. 
---