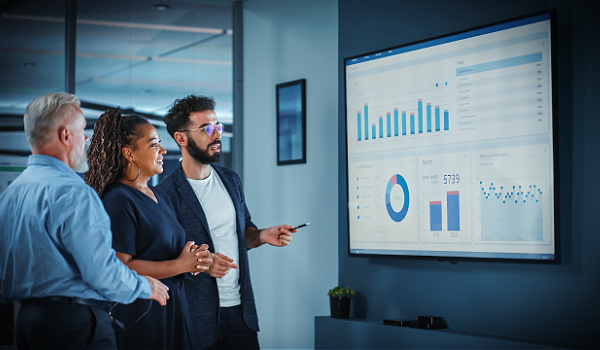 ---
By Ryan George, CMO | Docupace
Trying to attract new financial advising clients? You may believe you need to follow the latest trends or post to every available social media platform. But if that's your digital marketing plan, you may be wasting time and money. Fewer than 5% of new clients find a financial adviser through social media. Most people looking for a financial adviser either ask for personal referrals or search online. To make the most of your digital marketing dollars, prioritize proven strategies for success: website design, search engine optimization, and unique content.
3 Website Design Principles for Financial Advisers
Make Your Design Visually Appealing
Your potential clients are busy, so grab their attention fast. Choose high-quality images and use consistent fonts and colors so your branding is recognizable. Guide your readers' eyes through your content with white space. Make your text easy to read by breaking it into sections.
Organize Your Information
You have a lot of information to share with future clients but focus on the headlines and text that answer their questions. Some of these questions may include:
How will you achieve my goals?
Why should I choose your firm over another?
How does your firm make a difference in my life?
Prime Your Clients for Conversion
Tell your future clients what you expect them to do. Links, buttons, and forms are effective ways to call clients to action with offers that will benefit them. Examples could include:
Download your free financial planning ebook
Join our free retirement planning seminar
Subscribe to our newsletter
Sign up for a free estate planning consultation
Providing information or services allows you to build trust and create a relationship at the same time. Remember, most clients visiting your site are there because they need something. Your call to action shows them how to fulfill that need.
How SEO Leads Clients to Your Digital Front Door
Search engine optimization (SEO) ranks your site higher in search engine results and makes your site easier to find. Here are some ways to help your site climb higher:
Use Frequently-Searched Keywords
People use similar terms when searching for financial advisors, so use that information to guide viewers to your site.
Post Relevant Links
Internal links guide your future clients to more information about a topic they can easily access without leaving your site. Internal links also boost your search engine ranking.
Optimize Your Images
Large image file sizes can slow down your site speed and tank your rankings. Make sure your image file sizes aren't so large they increase your site's loading time, and don't forget to use alt-tags to accurately describe your image. Not only does this help you reach readers with disabilities, it helps search engines rank your visual content.
Provide Valuable Financial Content for Your Clients
When you position yourself as an expert, your clients will grow to trust you and rely on you for accurate, timely, and useful advice. Some of your future clients may not be ready to hire a financial advisor yet, but they may have questions you can answer. Your content, such as blog posts, pdfs, and white papers, can double as a way to improve your SEO ranking.
Here are a few tips:
Track Results
You may be tempted to give up if you keep posting content to your site and don't see immediate results. Web analytics show numbers of site visitors over time so you can track your progress. Not only that, but they can also help you determine what types of content are most successful.
Repurpose and Reuse Your Material
Save time by repurposing and reusing material you've already written. Try combining related blog posts or breaking a larger piece into more specific topics. Share your content on social media or in emails to reach a larger audience.
Stay Focused on Your Clients
What kind of clients are you hoping to attract? Is there a niche of potential clients who may currently be underserved by the financial services industry? By responding to clients' unique needs, you can become a trusted source of information.
Although many firms spend much of their time and money on social media marketing, you don't need to follow their example. If you meet clients online where they expect to find you and develop a customer-centered website using good design, smart SEO, and well-planned content, you can build a good relationship with your future clients before they ever walk in the door.
Thinking about implementing digital solutions to transform your client experience? Contact [email protected] to learn more about how Docupace's document management software can help you to provide your clients with a personalized, efficient, and secure advising experience.
---
To learn more about how Docupace can help your firm reach operational excellence, click here for a free demo.