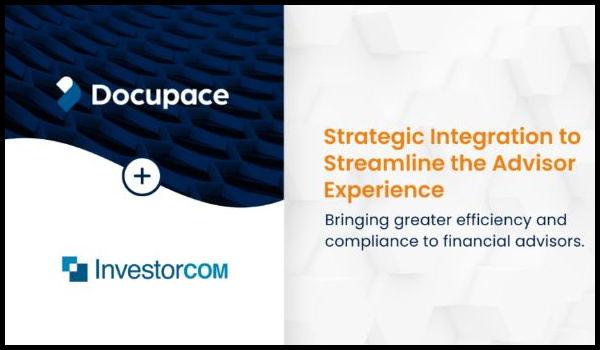 ---
Leading wealthtech providers forge partnership to ensure Reg BI compliance of investment recommendations.
LOS ANGELES – June 13, 2023 – Docupace, the leader in cloud-based fintech digital operations software for the wealth management industry, today announces the first phase of its strategic integration with InvestorCOM on behalf of their mutual client Wintrust Wealth Management, a wealth management firm offering a broad range of financial services to private clients and institutions in Chicago.
"Docupace and InvestorCOM have a shared understanding of the need for financial advisors to meet the highest regulatory standards yet not impede on their ability to serve their clients efficiently," said Ryan George, chief marketing officer for Docupace. "Financial advisors need a way to simplify compliance processes, one that takes the fear of non-compliance off their plate – that's the power of what Docupace and InvestorCOM can accomplish together.
The integration between Docupace and InvestorCOM, a leading regulatory software provider for wealth and asset managers, is set to enhance and strengthen operations at Wintrust Wealth Management while ensuring its financial professionals stay current with the latest compliance requirements.
"We're excited to partner with Docupace and InvestorCOM to bring greater efficiency and compliance to our financial advisors at Wintrust Wealth Management," said Jim Corbett, chief operations officer of Wintrust Investments LLC. "The integration of Docupace's document management solution and InvestorCOM's compliance platform will save our advisors and our compliance team valuable time and streamline their workflows by eliminating the need for multiple storage facilities. Both groups look forward to the seamless connectivity that will follow the integration, which will enable our advisors to provide recommendations of products in the best interest of the retail customer."
This new strategic integration leverages the Docupace Platform and InvestorCOM's technology to make best interest recommendations and manage documents digitally and in an SEC- and FINRA-compliant cloud environment. Wintrust financial professionals use InvestorCOM's intuitive technology to assess costs and ensure reasonably available alternatives have been considered when making best interest recommendations to investors. The Docupace Platform will provide Wintrust with 17a-4 compliant document storage of these recommendations and corresponding account paperwork.
"The integration of our technologies is the first step in our journey with Docupace and will result in enhanced efficiency, regulatory compliance, and an improved experience for financial professionals," said Parham Nasseri, vice president of products and regulatory strategy at InvestorCOM. "We believe strong compliance will be a lever to sustainable growth for the wealth industry."
Special Webinar on Reg BI Compliance
Docupace and InvestorCOM will be conducting a special webinar on June 22, 2023, at 1:00 pm ET discussing compliance challenges in a shifting regulatory environment. Hosted by Docupace CMO Ryan George, the "Rising to Compliance Challenges of Reg BI" will feature Parham Nasseri from InvestorCOM, Mitch Atkins from FirstMark Regulatory Solutions and Jim Sommerfield from Wintrust Investments, LLC.
---
About Docupace
Docupace is a solutions provider focused on digitizing and automating operations in the financial advice and investment industry. Financial services firms use the Docupace Platform (a cloud-based, integrated software suite) to reduce back-office expenses, improve efficiency, strengthen recruiting, and enhance the experience of advisors and investors. With headquarters in Los Angeles, California, Docupace is proud to serve some of the largest independent broker-dealers and registered investment advisers (RIAs) in the financial services industry.
For more information, please visit www.docupace.com.
About InvestorCOM Inc.
Since 1992, InvestorCOM has been providing regulatory compliance software and communications solutions to wealth and asset managers. Our high value, intuitive solutions eliminate compliance risk for our clients and foster better financial decisions.  For more information, visit www.InvestorCOM.com, email [email protected] or call 1-800-361-9494.