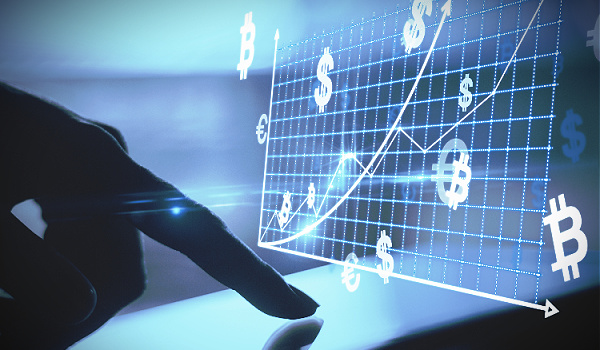 ---
As we enter a "hot product summer" in the digital wealth industry, inflation seems to have slowed down (for now), and the focus is on AI.
All kinds of products and integrations are happening across the board.
Despite the looming exit of its founder, the hits kept coming with Bloomberg with a new partner and an increased focus on D&I.
Experian hopes to enable the industry to hit the ground running with its "out of the box" solution and the SEC fined J.P. Morgan Chase.
Plus, cybersecurity in the insurance space got a boost with a new tool, and stablecoin issuer Circle will resume U.S. treasury purchases.
Maybe it has something to do with BlackRock's ETF intentions! (Who knows?)
This is your week in Digital Wealth!
---
WealthTech, RegTech, Regulatory, and Treasury
BridgeFT / Yayati LLC
WealthTech solutions firm BridgeFT revealed its partnership with quantitative finance infrastructure firm Yayati LLC as part of a series of moves that enhance personalized wealth solutions offerings for professionals and their clients.
The collaboration enables Yayati's access to BridgeFT's Wealthtech API marketplace, which vertically integrates industry processes.
Broadridge Financial Solutions Inc./LTX
The bond trading industry got another taste of AI-driven innovation with "RFQ+", a uniquely automated product that combines dealer processes with deeper liquidity.
LTX, a Broadridge subsidiary, launched RFQ+.
S&P Global Inc./Bloomberg L.P.
Still, on the bond markets, S&P Global Market Intelligence and Bloomberg L.P. revealed an integration that sees seamless transaction flows for market participants, especially on the buy-side.
The cooperation integrates Bloomberg's "TSOX", its fixed income ecosystem, with S&P Global Market Intelligences' "InvestorAccess" product, giving professionals an "all-around" solution without process fragmentation.
In other news, Bloomberg launched a white-label treasury product as part of its "diversity and inclusion" (D&I) activities, onboarding Tigress Financial and Mischler Financial Group, and other firms.
Crypto, Blockchain, and Digital Assets
Mastercard
Mastercard may be planning something big for the cryptospace with several crypto-related patents that could see the payments giant becoming a key player.
The patent application covers the introduction of Application Programming Interfaces (APIs) that "talk to" several kinds of industry players, including crypto exchanges and blockchain networks.
Circle Internet Financial Limited
The days of mistrust for the USDC stablecoin issuer Circle of the American economy are over with its re-entry into the treasury purchase ecosystem.
Circles' reserve fund (managed by BlackRock) will increase American treasury bill purchases per comments from Jeremy Fox-Geen, its Chief Financial Officer (CFO).
MakerDAO
In related news, Decentralized Autonomous Organization (DAO), and DAI stablecoin issuer, MakerDAO increased its U.S. Treasury holdings with a $700 million purchase.
This increases holdings to $.12 billion following a March vote to increase purchases to $1.5 billion from $500 million.
FinTech, Personal Finance, and Apps
Jack Henry & Associates, Inc.
Hackers and other bad guys got booted to the outer rims with the launch of " Payrailz Fraud Monitor ", an AI-driven payment fraud detection feature within Jack Henry's Payrailz ecosystem.
Boutique FinTech and payment solutions firm Jack Henry developed the product, and it does quite a bit, including account takeover protection, payment risk mitigation, heuristic analysis, detection of unusual patterns, and more for financial institutions and their customers.
MoneyGram International, Inc./Zirtue, LLC
Things got interesting in the payments space with a partnership between payments giant Moneygram and relationship lending FinTech platform Zirtue.
The cooperation gives under-served segments of the population per banking access to Zirtues' services, reversing the previous card/account linking process.
Pathward Financial, Inc./ Pathward®, N.A./ Propel Holdings Inc.
Similarly, financially under-served Americans and those with credit issues have expanded options with " Pathward Line of Credit ", a solution by Pathward®, N.A. that offers lending flexibility.
Propel Holdings Inc., a boutique FinTech firm with its premier Lending-as-a-Service (LaaS) platform, powers the Pathward Line of Credit. The product is also pre-approved via selected channels.
Banking, Payments, and Infrastructure
Experian Information Solutions, Inc.
Credit solutions behemoth Experian pushed boundaries with "Ascend Ops", a multi-programming language open-ended lending product that allows financial institutions to deploy credit operations in record time.
Ascend Ops enables institutions to take a multi-stage approach to credit model deployment and comes with state-of-the-art fraud prevention and detection tools alongside robust analytics and consumer intelligence features.
J.P. Morgan Chase & Co/S.E.C
Banking giant J.P Morgan Chase got slapped with a $4 million fine by the SEC for the erasure of about 47 million emails.
The records got deleted during routine troubleshooting and cover emails sent between January 1st to April 23rd, 2018.
Cross River Bank/Fintainium Inc.
The revelation of a partnership between payment solutions provider Cross River Bank and a small business-focused FinTech solutions firm Fintainium enabled the expansion of payment methods for the niche.
The collaboration enables ACH functionality, check processing, push-to-card features, and more.
AgentIQ/Temenos
Customer engagement FinTech platform AgentIQ indicated the availability of its "Lynq" platform on the Temenos Exchange, the leading interconnected financial solutions giant's open banking ecosystem.
Lynq enables financial institutions to implement customer-driven engagement solutions on the go, allowing for improved and efficient communications processes.
REtech, InsurtTech and Investing
Corvus Insurance
InurTech solutions provider Corvus Insurance unveiled " Corvus Signa ™", a cybersecurity solution for policyholders that aims to minimize the cost and rate of incidents.
Policyholders who deploy the suite of tools become eligible for claims reductions with a 25% limit, and 247 notifications are available to holders per emerging issues.
Newrez LLC/Homebot
The mortgage industry got a boost with a collaboration between leading lender Newrez and RETech education and consumer education platform Homebot.
Per the partnership, prospective homeowners and loan officers can make optimized decisions using Homebot's insights within Newrez's ecosystem.
Liberate Innovations Inc.
First Notice of Loss (FNOL) processes have gone supernova with an AI-powered plugin launched by Liberate Innovations Inc., a boutique InsurTech firm.
The plugin is not your regular "run-of-the-mill" automated tool. It has real-time native language-to-English capabilities, speech-to-data form-filling features, can summarize claims and then some.
The generative AI tool also integrates with OpenAI (popularly known for its ChatGPT generative AI product).
---