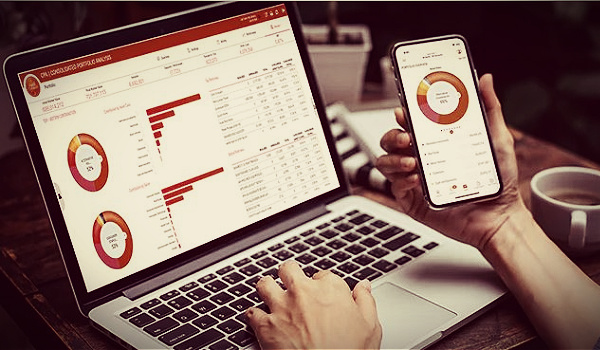 ---
We've notched another big, busy week in the advisor tech space. 
Perhaps the most interesting headline is that Tyrone Ross, an outspoken proponent of digital assets and financial empowerment, has landed a new gig at estate planning wealthtech Wealth.com. Best of luck to Tyrone in his new role. 
But there was also a set of bigger news, including new upgrades for Advisor360 and Alight, new COOs for TIFIN and its TIFIN.ai subsidiary, and big partnerships for YCharts, Ledgible and DeFi Steward. The Ledgible and DeFi Steward announcements are cause for celebration: This vintage of Advisor Tech Talk clearly marks new progress in bringing digital assets more fully into the advisor experience. 
We also have a smattering of other big news from the wealthtech space—but we'll let you find out more about that below. 
---
Advisor360 
Advisor360, a provider of enterprise software and solutions for broker-dealers and other wealth management firms, continued its accelerated pace of platform enhancements in the second quarter of 2023, beginning with an intuitive end client portal offering a modern user experience. The company also updated its Digital Onboarding, Mobile Check Deposit, and Trading features. Advisor360's enhanced end client portal reflects the company's rigorous software development life cycle. Advisors' clients now benefit from upgraded features such as real-time account holdings and balances, intra-day change values, client document upload, a configurable dashboard, secure messaging, and enriched market data and research. They can also easily access other new features, including Market Summary and Top Holdings. 
Alight 
Alight, Inc. announced the second major release of Alight Worklife, its employee experience platform, for 2023. The latest release delivers new digital experience features, expanded platform integrations and tooling, and enhanced guidance capabilities within the Alight Worklife platform to increase employee engagement, while providing employers with robust tools to increase the ROI of their HR and benefits programs. 
Key innovation features of Alight Worklife – 2023 Release 2 include:  
Mobile-enabled engagement: Alight Worklife's mobile user engagement features continue to expand, aimed at simplifying access to important information and tasks anytime, anywhere. 
The Alight mobile app now features integrated to-dos across the HR and benefits ecosystem, new mobile-friendly employee journeys, and additional capabilities for embedded video communications. 
Alight's AI-based virtual assistant, Ask Lisa, can now respond to even deeper employee inquiries with specific, personalized information such as spending account claim decisions to debit card status and even benefit payment information for inactive employees. 
Advanced customer care technology: Alight has added new features for the live customer care channel, including new natural language technology and smart routing capabilities that more easily and seamlessly connect users to the right resource at a faster speed through new natural language and intent technology.  
Beneficient 
Beneficient (NASDAQ: BENF) (together with its affiliates, "Ben" or the "Company"), a technology-enabled platform providing liquidity and related trust and custody services to holders of alternative assets, announced that it has consummated the financing of a liquidity transaction for a customer with respect to multi-family real estate alternative assets with a net asset value ("NAV") of approximately $38 million. Pursuant to the terms, Ben now holds a fiduciary loan with an initial principal balance of approximately $38 million to certain of the trusts of which its affiliate serves as trustee, which acquired alternative assets in exchange for 3,768,995 shares of Beneficient's Series B-1 Resettable Convertible Preferred Stock at a price of $10.00 of NAV per share (the "Preferred Stock"). Each share of Preferred Stock is convertible at the election of the holder into shares of Ben's publicly traded Class A common stock (Nasdaq: BENF) based on an initial conversion price of $5.46 per share (the "Conversion Price"), subject to reset on certain dates based on a 5-day VWAP, adjustment and a floor price that is 50% of the initial Conversion Price. 
DeFi Steward 
Defi Steward, a leading decentralized finance and digital asset platform for investment advisors, today announces a potentially game-changing partnership with real-time finance protocol Superfluid. This collaboration will empower SEC-Registered Investment Advisers (RIAs) to collect real-time streaming asset under management (AUM) fees on client crypto assets. After successfully offering monthly streaming fee capabilities on non-custodial wallets, this latest integration with Superfluid represents the first and only compliant crypto AUM fee streaming system for on-chain RIAs in the United States. For investment advisors, this means they can now receive client payments in real-time on crypto assets without any delays or disruptions, eliminating the need for the traditional quarterly or annual billing cycle and providing more flexible and efficient payment methods for the clients they serve. 
Ledgible 
Ledgible, the leading digital asset tax, accounting, and data platform for enterprises and institutions, announced a partnership with DigiShares, a white-label platform enabling compliant issuance, investor management, and peer-to-peer trading of tokenized digital assets. DigiShares delivers subscriber investment, trade, and distribution data to the Ledgible platform, where economic and ownership activity is analyzed and normalized to enhance efficient CPA-led preparation of Forms 1065 and 1120, Schedule K-1 and other tax returns. With Ledgible, DigiShares issuers, investors, and their accountants realize increased accuracy and efficiency in their tax preparation processes. The Ledgible Digital Asset Tax and Accounting Platform for tax and accounting professionals, enterprises, and institutions supports integrations across major blockchains, cryptocurrency exchanges, wallets, and professional accounting tools. As the bridge between crypto assets and traditional financial accounting, Ledgible determines digital asset tax liabilities and delivers that data to existing and novel TradFi accounting tools. The platform makes digital asset data, Ledgible, across the entire crypto vertical, for institutions, enterprises, and large accounting firms. 
Modern Life 
Modern Life, a tech-forward life insurance brokerage, unveiled its generative AI product, custom-engineered to cater to the specific needs of life insurance advisors. Built with proprietary life insurance research and data, the tool aims to demystify complex insurance topics, enhance underwriting precision, stimulate fresh sales concepts, facilitate the creation of marketing content, aid client communications, and much more for advisors. Modern Life's chat-based product has passed the life insurance licensing exam, illustrating a grasp of intricate insurance concepts and requirements. Underpinning the product is a foundation of proprietary life insurance knowledge – product details, sales concepts, and underwriting principles – provide context for the chat feature to return life insurance-specific responses. Modern Life partnered with OpenAI and Pinecone to develop the capabilities.  
Advisors can use Modern Life's new product to: 
Research and synthesize complex topics: Advisors can review advanced planning strategies, query various insurance topics, and draft client communications with a straightforward command. 
Generate marketing materials and prospecting emails: With just a brief prompt, advisors can create life insurance-centric content for blogs, articles, email, or social media. 
Conduct field underwriting: By entering a health issue or illness, advisors can gain in-depth knowledge about the condition, formulate follow-up questions, and understand treatments and medications to aid underwriting conversations with clients. 
SigFig 
SigFig, which powers a comprehensive set of interconnected digital wealth solutions for advisors and clients, today announced that Steven Mattus, a wealth management veteran of more than 30 years, is joining the company in the new role of Chief Investment Officer and General Manager of Digital Wealth. Steve joins SigFig most recently from UBS. He was previously at both Credit Suisse and Deutsche Bank in Managing Director roles. 
SkyView 
SkyView announced the launch of SKYVIEW 1, Inc., a white-label digital banking platform. SKYVIEW 1 partners with RIAs and broker-dealers to provide a bespoke digital banking service for consumers, including a cutting-edge mobile experience. This new banking as a service (BaaS) platform enables advisors to provide end-to-end service and advice, grounded in a foundational understanding of their clients' complete financial picture, that can steer high-net-worth investors toward greater financial momentum. Despite the prevailing belief among advisors that high-net-worth clients typically keep a mere 3-4% of their assets in cash away from their advisor, the average is significantly higher at around 20-25%. SKYVIEW 1 presents an unparalleled opportunity for advisors to grow their assets under management (AUM) and augment their client service. SKYVIEW 1 launches with a high interest savings account offering a 3.51% APY interest rate (8x the national average) and up to $125 million in FDIC insurance (500x the standard FDIC insurance limit of $250,000). SKYVIEW 1 customers are also partnered with a dedicated SKYVIEW 1 Private Banker who is available via text, email and phone to address their banking needs. 
SMArtX Advisory Solutions 
SMArtX Advisory Solutions ("SMArtX") announced it has added four strategies to its managed accounts platform, with Guardian Capital LP and Montag & Caldwell joining the SMArtX model marketplace.  The platform now features 1,234 strategies from 296 asset management firms. Guardian Capital LP established themselves on the platform with two global equity model strategies driven by bottom-up systematic research and company fundamentals, while Montag & Caldwell added its Mid-Cap Growth model strategy that focuses on high-quality mid-cap growth stocks with earnings growth and attractive valuation.  The SMArtX platform also welcomes one addition from existing asset management firm AthenaInvest Advisors, that introduced their Market Rotation model strategy. It is designed to tactically rotate among markets based on investor behavior. 
TIFIN 
TIFIN announced the addition of two leaders to its executive leadership team. 
Stacy Carter joins TIFIN as Chief Operating Officer at the holding company level. Stacy Carter is a seasoned veteran in the investment and technology industries. Prior to joining TIFIN, Stacy spent 5 years as Chief Legal Officer and SVP of Business Affairs at Techstars, a Boulder-based global investment and start-up accelerator business. With nearly two decades of experience, she has held several influential positions at leading technology start-ups. As COO at TIFIN, Stacy will leverage her combined experience to oversee Financial, Legal, and People Operations and serve as a shared senior resource across all of TIFIN's companies. 
Bhavna Thakur, an accomplished leader with a passion for technology and finance, joins subsidiary TIFIN.AI as Chief Operating Officer to lead new projects for the team including fundraising, exits, and acquisitions. Bhavna has over 23 years of investing, investment banking, capital markets, M&A, corporate finance, and legal experience. She has served in various international roles across New York, London, Hong Kong, and India, and most recently led Capital Markets and Exits for private equity fund Everstone Capital for 8 years. 
As part of TIFIN's leadership team, Stacy and Bhavna will play pivotal roles in spearheading the company's new initiatives and leading their respective teams to deliver exceptional products and solutions to TIFIN's growing client base. 
Wealth.com 
Wealth.com announced Tyrone Ross, chief executive officer and co-founder of Turnqey Labs, Inc. and president and founder of 401 Financial, as its inaugural strategic advisor. In this new role, Ross will be charged with informing Wealth.com's product roadmap to ensure it delivers maximum value for financial advisors and end clients alike. His expertise and insights will be instrumental in ensuring that the platform continues to meet and exceed the needs of all its members, further cementing Wealth.com's position as a preeminent force in the estate planning arena. Ross's reputation as an expert financial advisor, blockchain and cryptocurrency specialist, and staunch advocate for financial inclusion has earned him widespread recognition within the industry. His efforts to bridge the gap between traditional finance and emerging technologies have further solidified his status as an influential figure in the financial industry. Notably, he has been featured on esteemed lists such as InvestmentNews' 40 Under 40, Financial Planning's "20 people who will change the wealth management industry," and most recently, Investopedia's Top 100 Financial Advisors.  
WiserAdvisor 
WiserAdvisor, a leading investor referral generation platform for financial advisors and advisory firms, has announced the acquisition of Indyfin, the Dallas-based fintech company to build on its existing product suite and create a comprehensive growth platform for financial advisors. The acquisition is set to strengthen WiserAdvisor's marketplace position by providing financial advisors with an online software product that helps them gather reviews to earn trust from prospects and acquire clients more effectively. Indyfin's innovative investor experience platform, launched in March 2022, has redefined how consumers discover, research, and connect with financial advisors. Through Indyfin, financial advisors can gather valuable client feedback, ratings, and reviews, building credibility and trust online. In November 2022, the SEC's new marketing rule made it possible for financial advisors to use client testimonials to market their business. Individual data-rich advisor profiles informed by client feedback provide investors trust and confidence by offering complete transparency into the qualities that make each advisor unique. 
YCharts 
YCharts, a cloud-based investment research platform that enables wealth advisors and asset managers to make smarter investment decisions and to orchestrate better communications with their clients, has announced a strategic partnership with Cetera Financial Group (Cetera). The partnership between Cetera and YCharts offers all Cetera affiliates access to YCharts' platform, enabling them to streamline investment research and client communications workflows, while saving valuable time. In order to partner with Cetera, technology vendors like YCharts must have significant advisor demand, demonstrate key value-adds to practices' operations, and meet rigorous compliance and security standards. 
---