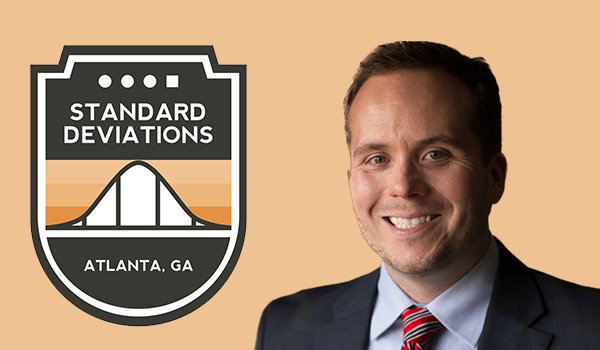 ---
This week on the Standard Deviations Podcast, Dr. Daniel Crosby speaks with Dr. Michael Finke.
Michael Finke, PhD, CFP®, is Professor of Wealth Management, Director for the Granum Center for Financial Security, and the Frank M. Engle Distinguished Chair in Economic Security at The American College of Financial Services. He joined The College in June 2016, having served since 2006 as a professor and PhD coordinator in the Department of Personal Financial Planning at Texas Tech University. From 1999 through 2006, he served as the Director of Graduate Studies at the University of Missouri.

Finke is a nationally renowned researcher with a focus on the value of financial advice, financial planning regulation, investments, and individual investor behavior. He was named to the 2012 Investment Advisor IA 25 list and the 2013 and 2014 Investment News Power 20. His research conducted with fellow professor Wade Pfau questioning the 4% rule of retirement planning was published in the Journal of Financial Planning and won the 2014 Montgomery-Warschauer award for most influential article. He previously won the award with Thomas Langdon in 2013. He was also selected to present his research on financial literacy and aging at the 2015 MIT Center for Finance and Policy Conference. Finke has published more than 50 peer-reviewed articles and is widely quoted in many of the nation's leading consumer publications, including The Wall Street Journal, The New York Times, Time, and Money Magazine. He also has worked on white paper research projects for companies that include MetLife, Northwestern Mutual, OneAmerica, the Society of Actuaries, and TIAA. Finke received a doctorate in consumer economics from The Ohio State University in 1998 and in finance from the University of Missouri in 2011, and his CFP® in 2006.

Tune in to hear:
– Do certain people have a natural proclivity for deferring gratification for a greater reward at a later date (e.g. exercise and saving) or can this also be learned?
– Is whether or not you are more forward-thinking or present-oriented hardwired in you from a young age?
– What are some of the things that those who "get retirement right" might know that those who "get retirement wrong" don't?
– Why is working in retirement important for many people and how might this look different from working pre-retirement?
– What are the three pillars of retirement satisfaction and what can we do to prepare ourselves for the non-financial ones that are often overlooked?
– What are some ways that we can spend money, smartly, that may make us happier?
– How does Michael live his life differently based on the research he has done on retirement?
Compliance Code: 1148-OAS-4/24/2023
---
ABOUT STANDARD DEVIATIONS PODCAST:
Educated at Brigham Young and Emory Universities, Dr. Daniel Crosby, the personality behind STANDARD DEVIATIONS podcast, is a psychologist and behavioral finance expert who helps organizations understand the intersection of mind and markets.
Dr. Crosby's first book, Personal Benchmark: Integrating Behavioral Finance and Investment Management, was a New York Times bestseller. His second book, The Laws of Wealth, was named the best investment book of 2017 by the Axiom Business Book Awards and has been translated into Japanese, Chinese, Vietnamese and German. His latest work, The Behavioral Investor, is an in-depth look at how sociology, psychology and neurology all impact investment decision-making.