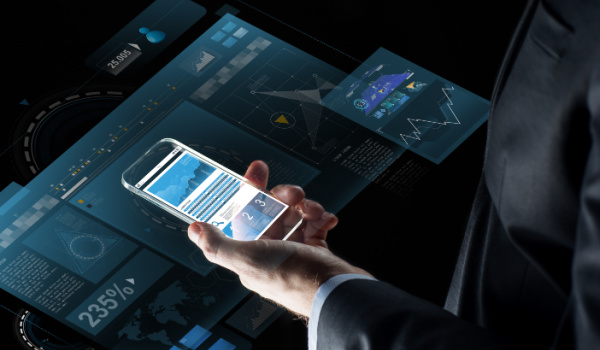 ---
Harvest season is upon us, and we have a bumper crop of advisor tech headlines once again this week. 
To get us started, CircleBlack is beefing up its leadership under the vision of CEO and President Lincoln Ross. Then we have the newest iteration of the Robo Report from Condor Capital, a hire at F2 Strategy, a big AI announcement from Snappy Kraken and lots of other big wealthtech news to pore through. 
We won't keep you—take a look below at this week's bounty of headlines yourself: 
---
CircleBlack 
CircleBlack has recently added two veteran wealthtech executives to its leadership team. Robert Baxter has been named Chief Technology Officer and will head technology development and operations as the organization continues to scale and deliver best-in-class solutions for client-centric financial advisors. Bringing 25 years of experience, Baxter will provide technical leadership to the development team to ensure the delivery of comprehensive capabilities and integrations that enable financial advisors to elevate their client-facing activities. 
Robert Keller has been appointed Chief Product Officer. Keller brings 20 years of experience in product strategy and will lead product development and management, providing client-centric financial advisors with comprehensive technology-enabled capabilities to elevate their client-facing activities. Robert shares a dedication to providing advisors with flexible technology that empowers them to shape their ideal product ecosystem and his expertise in crafting product solutions that offer exceptional benefits will be invaluable as they firm strives to provide financial advisors with the best tools and technologies. 
Condor Capital 
Condor Capital published the 28th edition of its Robo Report, covering the second quarter of 2023, and the 11th edition of the Robo Ranking, announced Ken Schapiro, Founder of Condor Capital Wealth Management. This edition of the Robo Report tracks the performance of 42 accounts at 27 different providers. The Robo Ranking Summer Edition provides an in-depth look at both the qualitative factors of robo-advice platforms, as well as the performance of its underlying accounts. It grades robo advisors across more than 45 specific metrics and scores each robo on various high-level categories, such as features, financial planning, customer experience, access to live advisors, transparency and conflicts of interest, size and tenure, account minimums, costs, and performance. 
Robo Ranking Highlights: 
Best Overall Robo Advisor Winner: Schwab Intelligent Portfolios, Runner-up: Merrill Edge Guided Investing 
F2 Strategy 
F2 Strategy introduced the strategic addition of industry veteran Laura Korbel as President. Having recently announced the establishment of a Midwest headquarters in Chicago, F2 has recruited Korbel to propel sustainable expansion and growth in an increasingly competitive landscape.  Recognizing the significance of an experienced leader in propelling its own organizational growth, F2 strategically recruited Korbel, who most recently excelled as Senior Vice President, Head of Operations, and Project Management at the renowned IT consulting firm Rightpoint. A standout candidate, Korbel boasts an accomplished track record of achieving strong business results in the Technology and Digital Consultancy Sectors.  
Magnifi 
Money News Network and Magnifi announced a first-of-its-kind podcast, "Money Assistant," hosted by renowned financial expert Nicole Lapin and the voice of Magnifi's AI-powered investing assistant. This cutting-edge collaboration promises to revolutionize the way listeners engage with personal finance, offering a fresh blend of human expertise and artificial intelligence insights. 
Hosted by Nicole Lapin, prolific New York Times and Wall Street Journal bestselling author and former CNN, CNBC and Bloomberg news anchor, Money Assistant aims to bring actionable financial guidance to those who need it most, demystify complex money matters, and inspire financial confidence.  
Nitrogen 
Nitrogen announced the deployment of its growth platform to Merit Financial Advisors ("Merit"). Merit is a national registered investment advisor (RIA) firm that specializes in financial planning and wealth management solutions for high-net-worth (HNW) individuals and families. Effective immediately, Merit's advisors will gain access to Nitrogen's suite of solutions, which includes powerful client engagement and analytics tools.   
 Recognized in 2022 as one of America's Top RIA Firms by Forbes and a 2023 Top Private Wealth Management Team by Barron's, Merit Financial is growing rapidly. As the firm has scaled, leadership identified a need to standardize its client engagement process and integrate it with the firm's data warehouse. Nitrogen will now serve as a firm-wide platform to drive a consistent client experience across each Merit advisor's book of business, assisting in both attracting and retaining clients.  
Opto Investments 
Opto Investments ("Opto"), the technology-driven solution that empowers forward-looking advisors to confidently access private markets, announced the appointment of Matt Dunn as Head of Marketing. With an extensive background in the financial industry, Dunn brings valuable expertise and strategic insight to both the Opto team and its extensive advisor community.   
Most recently, Dunn served as Executive Vice President (EVP) and Head of Americas Marketing at PIMCO, where he played a pivotal role in the company's marketing initiatives. He also led global digital marketing transformations as EVP and Global Head of Digital Marketing at PIMCO, demonstrating his forward-thinking approach to leveraging technology for growth initiatives. Prior to his tenure at PIMCO, Dunn was instrumental in revolutionizing digital marketing at Morgan Stanley, where his leadership helped drive the success of the firm's Next Best Action product. Dunn's background also includes 16 years at Franklin Templeton Investments, where he held various roles in Canada and the United States.    
Pontera 
Pontera and Summit Financial ("Summit") announced a strategic partnership. With this collaboration, Summit advisors gain access to a secure platform to seamlessly manage 401(k) and 403(b) accounts as part of a holistic approach to growing clients' wealth.                       
Pontera's platform will enable Summit advisors to offer clients a holistic view of their portfolio, strengthening transparency and trust. Using Pontera, Summit advisors can help grow clients' wealth by analyzing, rebalancing, and monitoring held-away accounts as part of their investment strategies. The platform integrates with Addepar to facilitate all-encompassing performance reporting and billing, providing clients with increased clarity into their finances. With SOC 2 Type II compliance and ISO-27001 certification, Pontera also has features that help streamline compliance processes such as automatic supervision logging.     
RightCapital 
RightCapital and PreciseFP announced a data integration partnership. This new bi-directional API integration helps advisors save time and streamline the financial planning process by exporting and importing selected household account data between the two platforms. A new API-driven integration streamlines advisors' client data gathering and financial planning efforts by syncing household financial data between PreciseFP and RightCapital. 
Once an advisor enables the RightCapital integration within PreciseFP, they can select accounts to sync household data including Client and Co-Client contact information, family members, income, expenses (export only), and goals. Advisors will also be able to customize how the fields in PreciseFP are mapped to the fields in RightCapital. 
Snappy Kraken 
Snappy Kraken announced the launch of an artificial intelligence (AI)-powered email builder, enabling advisors tired of staring at a blank screen to craft compelling client and prospect emails in a fraction of the usual time. This breakthrough reimagines mundane headlines into captivating ones; generates personalized and brand-consistent images; and crafts impactful calls to action (CTAs) that yield positive outcomes. 
This drag-and-drop email builder, enriched with AI capabilities, encompasses the following features: 
Magic Image: Empowering advisors to quickly generate unique images, enhancing the visual appeal and hyper-personalization of their emails. 
Smart Headings: Instantly transforming monotone text by creating engaging and intriguing alternatives that fit advisors' brand and voice. 
Smart Text: Allowing advisors to shape their thoughts into well-organized, summarized, simplified, expanded, or revised prose. 
Smart Button: Infusing CTAs with vibrancy to encourage active participation and drive advisor conversions. 
YCharts 
Dynasty Financial Partners and YCharts announced a multi-year extension of their partnership to provide Dynasty's Network Advisory Firms with YCharts' web-based investment research and client communications platform. Through its continued relationship with YCharts, Dynasty's 50+ network advisory firms will have access to the industry-leading solution. This enables advisors to make more informed investment decisions, improve operational efficiency, and create more compelling visual representations of their insights that help them better communicate to prospects and clients. This partnership ensures that YCharts remains an important piece of Dynasty's Advisor Desktop infrastructure for the long term. 
---