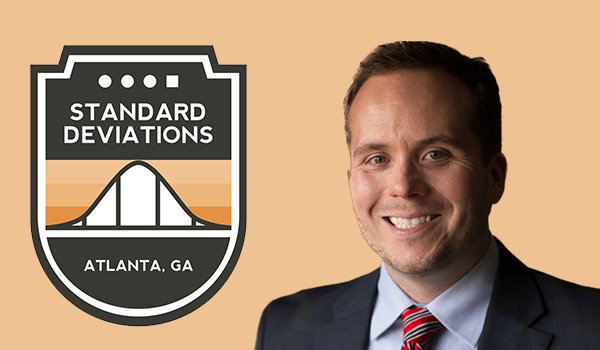 ---
This week on the Standard Deviations Podcast, Dr. Daniel Crosby speaks with Dr. LaKeitha Poole.
This week on Standard Deviations with Dr. Daniel Crosby, Dr. Crosby is joined by Dr. LaKeitha Poole. Dr. LaKeitha Poole is in her seventh season leading LSU's Sport Psychology & Counseling unit under a newly appointed title of Assistant Athletic Director, an administrative promotion from Director of Student-Athlete Mental Health for the last six years. She also recently served as the Interim Senior Advisor to the Athletics Director for Equity, Diversity and Inclusion from March 2020 – July 2021. In this role, she worked to implement various initiatives including a climate survey, hiring practices, diversity supplier policies, supporting racial equity, and assessing communication and developing educational programming for student-athletes, coaches and staff.
Poole played numerous roles on campus before moving over to the Athletic Department in 2016. She spent six years in LSU's Office of Multicultural Affairs (OMA), serving as an Assistant Director and as the Coordinator of the LSU African American Cultural Center. As the Assistant Director, and complementary to her programming and student development roles, she was responsible for creating and managing the mental health services of the department. In addition to her primary roles at LSU, Poole serves as an adjunct instructor in the College of Human Sciences and Education, was a board member for the Baranco-Clark YMCA in Old South Baton Rouge, and owns a private practice, Small Talk Counseling & Consulting.
Her private practice allows her to have a broad range of clinical experiences ranging from athletes and working professionals, couples and families, universities and professional organizations, including Brown University, the NCAA, Women Leaders in College Sports, as well as professional leagues and clubs, including the NFL, Team USA and, most recently, the 2021 – 2022 World Champion Golden State Warriors. A 2009 graduate of Florida State University, Poole was honored as a 2018 Notable 'Nole, an award that recognizes FSU alumni ages 35 or younger for their significant contributions to their professions, communities or alma mater. She earned her master's degree in Clinical Mental Health from LSU and her doctoral degree in Counselor Education & Supervision from Regent University in Virginia Beach, Va.
Tune in to hear:
– What's the number one misconception about sports psychology? What are the Monday morning quarterbacks missing when they comment on a game?
– Has Dr. Poole noticed any common thread shared by the championship teams she has worked with over the years?
– How do teams really individualize their overarching goal above and beyond simply aiming to win and take home the championship trophy? Does this customization really help with overall buy in to the team culture and with collaboration between teammates?
– What are some of the ingredients, or elements, that makeup a good team culture? Does this look very different from team to team or are there elements that are consistent across the board?
– If Dr. Poole was called in to help a team that was in a major slump, in both performance and culture, where would she start to try to pull them out of this?
– Are most teams pretty responsive to Dr. Poole's process, as a rule, or does it vary a lot from sport to sport or team to team?
– Are visualization exercises a part of what Dr. Poole does or is this just a stereotype?
– Does she advocate for visualization on game day or does it prove more useful in a practice context?
– What can athletes do to reliably increase their chances of entering into a "flow state?"
– What is the psychological mechanism that trips that might account for the yips?
– What are some takeaways from sports psych that we could apply in our everyday lives?
Compliance Code: 2127-OAS-8/2/2023
Ad Compliance Code: 2120-OPS-8/2/2023
Orion Portfolio Solutions, LLC, an Orion Company, is a registered investment advisor. 
Custom Indexing offered through Orion Portfolio Solutions, LLC a registered investment advisor.
---
ABOUT STANDARD DEVIATIONS PODCAST:
Educated at Brigham Young and Emory Universities, Dr. Daniel Crosby, the personality behind STANDARD DEVIATIONS podcast, is a psychologist and behavioral finance expert who helps organizations understand the intersection of mind and markets.
Dr. Crosby's first book, Personal Benchmark: Integrating Behavioral Finance and Investment Management, was a New York Times bestseller. His second book, The Laws of Wealth, was named the best investment book of 2017 by the Axiom Business Book Awards and has been translated into Japanese, Chinese, Vietnamese and German. His latest work, The Behavioral Investor, is an in-depth look at how sociology, psychology and neurology all impact investment decision-making.