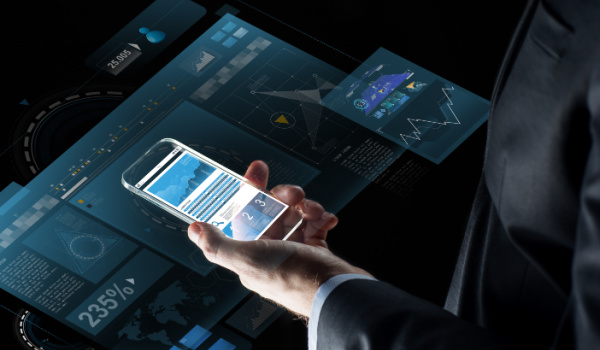 ---
This week we have another full load of advisor tech headlines, including two from digitally oriented, fast-growing RIAs. 
Edelman Financial Engines and Savvy Wealth do, in some ways, blur the lines between wealth management RIA and wealthtech firm, as do perhaps a dozen or a score of other well-known, nationally recognized RIAs. 
In fact, many of the largest and most popular wealthtech firms operating today have roots that reach directly into a legacy wealth management practice—Orion, which also appears in today's Advisor Tech Talk, is one such firm. Advisor360, which was spun off from Commonwealth in 2019, also comes to mind. 
So when does the opposite happen? I have to think that, with the continued growth and evolution of wealth technology, eventually a wealthtech firm buys or founds a large RIA with a national or international reach, creating a different kind of bionic or hybrid wealth management provider merging a tech company with a workforce of professional advisors to find meaningful synergies in new ways. 
Just food for thought. Let's get to some advisor tech headlines. 
---
Edelman Financial Engines 
Edelman Financial Engines announced the acquisition of Align Wealth Management (Align), a Registered Investment Advisor that provides a wide range of wealth management and financial planning services, including investment management, tax planning, retirement planning and estate planning. Headquartered in Oklahoma City, Oklahoma, with an additional office in St. Petersburg, Florida, Align manages approximately $425 million for nearly 360 clients. 
The acquisition grows Edelman Financial Engines' presence into the Oklahoma and Florida markets, adding planner capacity in these key regions. 
M&A remains a key area of strategic growth for Edelman Financial Engines, and the firm expects activity will increase in the coming quarters as it continues conversations with strong partners. 
Elements 
Elements announced that more than 10,000 end-client users spanning 500 advisory firms now use its financial assessment tool to manage and improve their financial lives. By effortlessly inputting their financial data into the user-friendly Elements mobile app, prospects and clients enable advisors to harness this information. Advisors can then employ this data in conjunction with the platform's 12 critical financial metrics to provide impactful insights, fostering meaningful discussions with their clients. 
Elements' end-client demographics reveal a diverse clientele of over 10,000 users, spanning from early adulthood to its oldest client at 94 years old. This broad spectrum highlights the platform's capacity to engage clients across various age groups. Whether serving individuals in their prime earning years or those approaching retirement and beyond, advisors can leverage Elements to offer tailored financial guidance, recognizing and addressing specific client needs and concerns. These insights underscore the platform's potential to facilitate meaningful advisor-client interactions and strengthen relationships, making it a valuable asset for advisors seeking to connect with clients of all ages. 
Orion Advisor Solutions 
Orion Advisor Solutions announced a new advisory solution through boutique investment management firm City National Rochdale (CNR). The relationship will bring CNR's Intelligently Personalized SM portfolios for high-net-worth individuals, families and foundations with more than $1 million in investable assets to the Orion Portfolio Solutions (OPS) platform. These tailored, proprietary solutions are designed for advisors serving investors who desire personalized portfolio management strategies that address their unique situation relative to investment objectives, tax sensitivities, income needs, or existing holdings with low cost basis or concentrated positions. 
Each investor's portfolio is built from the ground up, with CNR serving as a "holistic" manager, meaning it manages client assets using a broad spectrum of asset classes. Specialized and core strategies include: Equities; Core Fixed Income; Opportunistic Income; and Alternative Investments and Real Assets. CNR works with an investor's existing holdings and develops a tax-sensitive transition plan to fit individual needs. OPS advisors will also have the capability through CNR to build portfolios to complement non- portable assets (e.g., current 401(k)s, company stock, other managers, etc.). 
Savvy Advisors 
Savvy Advisors Inc. announced it has welcomed Erich Yost, CFA, and Ryan Bond CFP® to the firm as principal wealth managers. Yost and Bond, both based in the Greater Philadelphia area, are the newest advisors to partner with Savvy and gain access to its proprietary technology platform. Savvy's interface was designed to help advisors build personalized financial plans, improve client service and streamline marketing, and back-office operations. Yost comes to Savvy from Veritable, LP, where he was a portfolio manager and a member of a team that managed $2.5 billion in assets for ultra-high-net-worth individuals and families. With over 12 years of industry experience, Yost is well-positioned to provide guidance to clients on topics including strategic asset allocation, estate planning, and engaging the next generation. As an independent advisor at Savvy, Yost will leverage the firm's growing tech stack to help his affluent clients effectively manage generational wealth and improve intra-family relationships.  
Similarly, Bond serves a client base made up of primarily high-net-worth investors and joins Savvy from Empower (formerly Personal Capital), where he worked as a senior financial advisor. In his prior role, Bond employed his holistic approach to financial planning while leading 300 client relationships with over $430 million in combined assets under management (AUM). Early in his career, Bond worked as an advisor at Vanguard and earned his Series 7, Series 66, and CFP® certifications shortly after graduating with a triple major in financial planning, finance, and economics from the University of Delaware. 
As Savvy advisors, both Yost and Bond have access to integrated technology across all facets of the planning process, made available via a newly launched advisor platform. Earlier this year, Savvy also rolled out a proprietary direct indexing solution that enables advisors like Yost and Bond to deliver tax-efficient, values-aligned portfolios that are customized to their high-net-worth clients' ESG preferences. 
SMArtX Advisory Solutions 
SMArtX Advisory Solutions announced 35 strategies from 10 leading asset management firms joined the SMArtX TAMP manager marketplace. Candriam, JAG Capital Management, and Thornburg Investment Management are now offering a total of 17 strategies across international ADR, US equity, and municipal fixed income asset classes. The platform currently features 1,277 strategies from 300 asset management firms.  
Several existing firms, including 12th Street Asset Management, Aptus Capital Advisors, Donoghue Forlines, Frontier Asset Management, Neuberger Berman, New York Life Investments, and Nuveen Asset Management, added 18 strategies to the platform. These strategies encompass a wide range of portfolios across equity, ESG, balanced, and income themes. 
SMArtX also announced Fidelity Investments and Invesco will make their investment strategies accessible through the new SMArtY platform. The strategies will be available immediately on SMArtY, joining Russell Investments as the first three asset management firms to be part of the SMArtY platform. 
  
Fidelity Investments will offer its suite of Target Allocation, Target Risk Blended, and Target Allocation Tax-Aware model portfolios through the SMArtY platform. Invesco will provide access to its Dynamic Active/Passive and Strategic Active/Passive Tax-Aware model portfolios, offering advisors a wide range of investment solutions. Both firms will also offer custom, white-label investment solutions to SMArtY advisors seeking a distinct product suite for their clients. 
Snappy Kraken 
Snappy Kraken announced the introduction of its Nitrogen Lead Generation Campaign live from the trade show floor at Nitrogen's Fearless Investing Summit. This offering harnesses the Nitrogen Risk Number, equipping financial professionals with the tools to drive traffic to their Risk Assessment Questionnaire, and capture leads through a multi-stage, automated marketing campaign. Seamlessly integrated with Nitrogen's growth platform, it allows advisors to launch an attention-grabbing automated marketing campaign, effortlessly directing traffic to the Nitrogen Risk Assessment Questionnaire and guiding prospects into a proven portfolio comparison and proposal generation process. 
In an industry known for its fragmented marketing efforts and complex tools, the Nitrogen Lead Generation Campaign offers a streamlined solution that saves advisors invaluable time. This integrated approach enables financial advisors to efficiently capture leads, engage prospects with personalized email campaigns, and nurture them towards conversion, all through a user-friendly interface. Moreover, the campaign includes a secondary feature empowering advisors to target highly motivated leads, prompting appointment bookings, while automated follow-up communications work seamlessly in the background. 
---