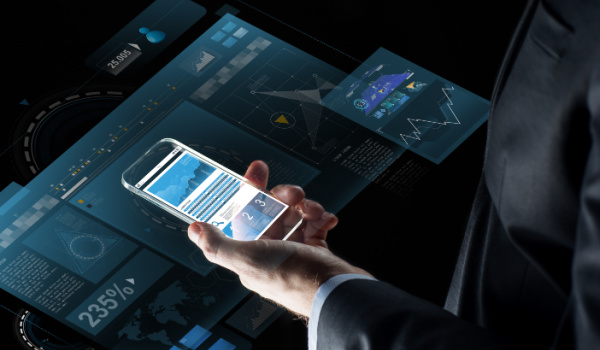 ---
Another week of fintech headlines is upon us, and as usual, there's a lot to say. 
First, however, we should give thought to the people caught in an escalating war in the Middle East. Israel, as you may know, is a hot bed of the technology industry, with many fintech firms taking root in the Holy Lands and many with wealthtech leaders and their family members hailing from or residing within its borders. This is a conflict that hits close to home for much of the industry. 
Our hearts go out to all the innocent, peaceful peoples in the region, as well as our hopes for their deliverance from war, terror and oppression. 
Today, we bring you headlines from Envestnet, Advyzon, iCapital and Intention.ly. Please Enjoy! 
---
Advyzon 
Advyzon, a comprehensive service and technology platform and portfolio management solution for financial advisors and investment managers, recently announced updated integration capabilities with RightCapital, a financial planning software that simplifies the complexity of financial planning for advisors and their clients. 
Advyzon's integration with RightCapital sends data directly from Advyzon through API access and offers multiple capabilities, including connecting important information to client plans, allowing advisors to import client profiles from Advyzon into RightCapital, and sending RightCapital reports directly to Advyzon. Once integrated, investment account and life insurance data can be synced from Advyzon to RightCapital. 
AlphaTrAI 
AlphaTrAI, a Technology-Enabled Solutions firm that delivers results through transformative artificial intelligence, announced the addition of Dr. Henrik Christensen to its Board of Directors. An eminent scholar in the fields of robotics and artificial intelligence, Dr. Christensen is an academic, entrepreneur and visionary with profound insights and experience surrounding the intersection of artificial intelligence and robotics.  
Led by CEO Bill Dwyer, Former President of LPL Financial, AlphaTrAI applies artificial intelligence to deliver business solutions and products to the wealth and asset management industry. The firm develops innovative AI-driven investment products and solutions for family offices, RIA firms and institutional asset managers. 
 Envestnet 
Envestnet announced a partnership with First Command Financial Services, Inc., which will provide its network of financial advisors access to Envestnet's integrated financial ecosystem including its enhanced reporting and portfolio management capabilities, CRM integration, next-level personalization including tax overlay optimization, financial planning tools through Envestnet | MoneyGuide, and data aggregation through Envestnet | Yodlee. 
Once utilizing the Envestnet platform, First Command's financial advisors will have the technology and services they need to offer highly personalized Unified Managed Account (UMA) programs for their clients. By applying the full strength of the Envestnet ecosystem, First Command advisors will be able to access insights drawn from aggregated assets of $5.4T in consumer spending and deposits, allowing them to know how a similar individual makes, spends and invests money – and importantly – providing actionable insights that help advisors identity next best actions for a client. These insights can then be leveraged within the MoneyGuide financial planning platform to help inform clients' financial plans. The insights generated through the planning process can easily be actioned through the Envestnet platform, and may be enhanced by services such as tax overlay and Envestnet's reporting capabilities. 
 Fidelity Investments 
New research from Fidelity Investments shows that about 1 in 6 advisors[i] have proactively switched firms in the past five years, with independent business models as the top destination. In fact, 94% of advisors are happy with their decision to move, with 85% noting an increased control over their future. Despite this popularity, only half of advisors consider themselves knowledgeable about firm types (54%) and independent models (49%), and only 25% know the various intermediaries (e.g., 3rd party recruiters, consultants, clearing or custody providers) that can help with finding a firm. Advisors may prefer independence and the benefits associated, but the lack of knowledge and fear of the unknown may be preventing them from taking that leap. 
To help advisors navigate the decision-making process and learn about the associated benefits, as well as address concerns of moving to an independent model, Fidelity created an Independence Hub, a central location for insights, tools, and practical steps to support advisors on their path to independence, including actionable guides for each phase of their journey—consideration, transition, and growth. 
FinanceHQ 
FinanceHQ, a platform that connects individuals with trusted financial advisors and resources, has launched out of stealth mode and named Alex Choi as CEO. FinanceHQ was founded to help individuals plan a better financial future. 
FinanceHQ also helps advisors grow their book of business by providing meaningful introductions to prospective clients. After a rigorous vetting process, FinanceHQ onboards qualified financial advisors and matches them with individuals seeking advice. 
In his role as CEO, Choi is focused on building the team, expanding FinanceHQ's portfolio of partners, and delivering on FinanceHQ's mission to help provide financial empowerment to consumers. Prior to FinanceHQ, he spent over five years at Betterment, most recently as Head of Strategy & Operations for the RIA-facing business unit: Betterment for Advisors. In that role, Choi worked directly with financial advisors and other external platforms to provide a best-in-class experience for clients. Before joining Betterment, Choi worked at Morgan Stanley. 
FinanceHQ has also named Amanda Cox as Chief Operating Officer and Amar Parikh as Head of Product. Cox spent her impressive 30-year career at some of the top financial firms including Bank of America, Merrill Lynch, Silicon Valley Bank, and ABN AMRO. Parikh has led product teams at tech firms including Apple, Betterment, and Expedia. 
Hearsay 
Hearsay Systems announced its User Maturity Model, designed to evaluate and quantify advisors' social behaviors and help firms uplevel their social selling programs. Leveraging a data sample from over 200,000 financial professionals across the insurance, wealth management, and banking industries, Hearsay provides firms guidance to get the most from their social selling programs, resulting in better engagement, deeper relationships, and increased sales.  
Hearsay's User Maturity Model uniquely shows organizations where their individual team members are on their respective social selling journeys and offers targeted guidance and training on how they can be more effective through specific actions they can take to improve results. More than just a framework, users leverage Hearsay's tailored approach to transform individual social media practices in order to create substantial impact. 
Upon customer request, the User Maturity Model scores specific social behaviors such as adoption of multiple social channels, amount of network growth, user-created published content, and 1:1 engagements, and ties those behaviors to business results. 
iCapital 
NewEdge Wealth, LLC, a registered investment advisor specializing in servicing the needs of ultra-high net worth families, family offices and institutional clients, and iCapital, the global fintech platform driving access to alternative investments for the wealth management industry, announced a strategic partnership that provides NewEdge Wealth financial advisors and their high-net-worth clients with access to a diversified range of alternative investing opportunities. 
 The partnership includes a customized technology offering that provides advisors at NewEdge Wealth with a curated menu of alternative investment strategies – from private equity, private credit, real estate to hedge funds – and also enables the firm's advisors to purchase structured investment opportunities. 
iCapital's technology solution automates the subscription, administration, operational, and reporting processes for the life of the investment funds. As part of the partnership, advisors also gain access to a full suite of research, due diligence, educational materials, and investment product training. 
Innovayte 
Equity Advisor Solutions and ETC Brokerage have come together under new leadership to form Innovayte, a custody and clearing company supporting entrepreneurial independent registered investment advisors (RIAs) and broker-dealers by providing forward-looking solutions to help them serve their clients and grow their businesses. 
The new company will be led by Catherine "Cat" Davies, who has more than 25 years of financial services leadership experience. Davies, who most recently served as Chief Solutions Officer for Hightower, will be responsible for building and implementing a strategic plan focused on creating a scalable, technology-enabled business service platform with a broad portfolio of complementary products and services. 
Amid rapid industry consolidation, smaller RIAs and broker-dealers have fewer options in custody, clearing and partnership. They can choose a platform that keeps them captive to systems and products or sell to a larger entity and cede control. Innovayte offers a decidedly different approach. For advisors and broker-dealers who want an edge from their custodian and partner, not a platform or an employer, Innovayte provides the systems and support needed to create better business outcomes. 
Intention.ly

 
Intention.ly, the growth engine design consultancy firm transforming the way finserv and fintech companies approach marketing, announced that Jess Flynn and Marni Dacy will join the firm as directors of account strategy, leveraging combined industry experience in a variety of high-level marketing and communications positions at core industry firms such as Nasdaq and the Financial Planning Association to provide senior guidance and strategic oversight.  
At Intention.ly, Flynn will drive sustainable growth for fintech and finserv firms that are poised to move this profession forward. Her distinct ability to articulate complex strategies and guide a team to execution will enable these clients to achieve tangible results. Meanwhile, Dacy will spearhead several key accounts, leveraging her acumen to drive revenue and enhance ROI for Intention.ly clients.   
Dacy comes on board following nearly 12 years in various positions at Nasdaq, where she spearheaded global initiatives. For the greater part of the last three years, she assumed the role of associate vice president of global marketing, guiding a top-performing team in pioneering campaigns and forging partnerships with vital stakeholders to strengthen and expand client relationships. Notably, under Dacy's leadership as the head of index marketing, Nasdaq's Index business emerged as one of the most rapidly expanding revenue lines within the firm.  
Marstone 
Marstone, a digital investment and planning firm, announced it has partnered with Woodforest National Bank (Woodforest), headquartered in The Woodlands, Texas with over 760 branches nationwide, to bring its digital wealth offering to Woodforest's customers. 
As a privately held community bank, Woodforest operates its branch network across 17 states, which includes over 700 branches within retailers across the country. Joining with Marstone expands its current wealth management offering – Woodforest Wealth Strategies – and increases its digital channels, allowing it to service an even greater number of bank customers. 
Pocketnest 
Pocketnest, the female-founded financial wellness platform, announced the official kickoff to its biggest product release yet, focusing on artificial intelligence. With direct guidance from Peter Norvig, Director of Research, Google, and IBM, Pocketnest is soon to launch the next generation of financial planning: the first-ever fintech platform that's both powered by AI and covers all areas of financial wellness, from budget and retirement savings to estate and tax planning. 
Built on behavioral science and psychology, Pocketnest coaches users through 10 themes of financial wellness. Using AI, the platform will provide deeper, more personalized insights and recommendations to help people of all backgrounds and financial know-how to build and stick to a financial plan confidently. 
Practice Intel 
Practice Intel, a growth platform to help advisors align their practices with what clients value most, announced the official launch of its solution to help advisors improve the advice experience and increase firms' valuations. Headed by a seasoned leadership team, Practice Intel provides advisors with deep insights into key client perspectives and the necessary tools to elevate their quality of advice.   
Voya Financial 
Voya Financial announced the launch of its new "Advisor Dashboard," the latest addition to the firm's suite of digital implementation support resources. With a focus on providing greater support for retirement plan advisors in the emerging and middle market segments, Voya's Advisor Dashboard will offer greater opportunities for plan advisors to align with clients during the retirement plan implementation process. 
Voya's new Advisor Dashboard offers a continued smooth and seamless implementation experience with additional resources to support retirement plan advisors who are very hands on during transition processes.
---