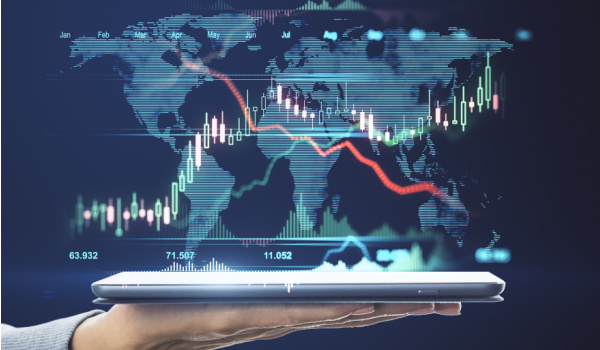 ---
This Fall is unlike any other.
It is unique.
Our thoughts and prayers are with New York residents at this time who have gone through massive flooding over the weekend.
Cboe has a new index.
Gary Gensler showed up in Wall Street and is cooking a storm per private messaging.
Circle is pursuing credit tokenization.
The Federal Government is actively verifying accounts (via J.P Morgan).
Employment companies can now issue digital insurance certificates.
This is your week in digital wealth!
---
WealthTech, RegTech, Regulatory, and Treasury
Cboe Global Markets/ S&P Dow Jones Indices (S&P DJI)
Market infrastructure behemoth Cboe unveiled its latest addition to its volatility index suite (the Cboe S&P 500 Dispersion Index (DSPX)).
The DSPX provides insights from parent S&P 500 companies relative to their subsidiaries.
The SEC deepened its investigation into unofficial communications channels.
This time, thousands of private messages from private apps came under scrutiny.
The move, part of measures to checkmate rule breakers, had internal reviews of communications via apps like WhatsApp and Signal.
The Members Exchange (MEMX)
MEMX, the boutique exchange provider, revealed the launch of its options platform (MEMX Options).
The first stage of operations includes the launch of three symbols, including SPDR Gold Trust (GLD), Starbucks (SBUX), and ImmunoGen Inc. (IMGN).
Confluence Technologies
Confluence Technologies, the investment analytics giant, revealed the addition of liability reporting to its Portfolio Analytics and Reporting (PARis) product.
The new feature increases the alpha chances for investors, especially institutional pension portfolios.
Crypto, Blockchain, and Digital Assets
Per media reports, Kraken, one of the early-stage cryptocurrency exchanges, may move beyond its digital asset confines.
The exchange is reportedly considering adding stock and ETF trading to its activities.
Bank of International Settlements (BIS)
According to a speech by Agustin Carstens, the general manager of the Bank for International Settlements (BIS), countries need to create legal mechanisms for issuing Central Bank Digital Currencies (CBDCs).
Carstens also iterated the benefits of CBDCs to the global banking system, including a two-tier structure similar to existing ones.
Circle Internet Financial
Circle, the stablecoin issuer, unveiled an open-source smart contract bundle that can build and deploy tokenized credit ecosystems, Perimeter Protocol.
Perimeter Protocol has several uses, including settlements, payrolls, and invoicing.
FinTech, Personal Finance, and Apps
Small businesses have access to Visa-powered virtual cards courtesy of a partnership between card platform Marqueta and boutique payments FinTech Veem.
The offering is available via API integrations across the board.
Tipptapay/Visa
Also, via a Visa institution, anyone can support their favorite causes via a partnership between the payment giant and a social impact FinTech Tipptapay.
Small-value donations are now possible with the integration.
A credit-focused FinTech firm, Arro, revealed its launch on major App ecosystems, including Apple App Store and Google Play.
The California-based FinTech company also partnered with Dovly, a credit automation firm, to improve the customer experience.
CPACharge, a leading accounting software platform, revealed the addition of automated client invoicing to its features.
Professionals can send clients a payment link with easy options, including ACH, cards, and more.
Banking, Payments, and Infrastructure
J.P. Morgan/US Treasury Department
J.P Morgan, the banking behemoth, revealed its selection by the Treasury for account validation services.
Payee details will now get verified by J.P Morgan before the Federal Government releases funds.
Deluxe, the boutique banking solutions company, revealed its partnership with premier FinTech company Aliaswire.
DirectBiller is now available to financial institutions on Deluxe's network.
Pegasystems Inc.
Pegasystems Inc., the premier software firm, revealed the addition of Pega Smart Dispute, an AI component to its chargeback solution.
The innovation helps partner banks prevent fraud and streamline processes.
Credibly/Green Dot
Small business-focused FinTech Credibly, revealed the addition of new products, including its corporate solution (" Credibly Business Banking®").
Credibly developed the product in partnership with Green Dot and operates within its ecosystem.
Atomic Financial
Leading FI-oriented FinTech firm Atomic revealed its bank switching solution ("PayLink").
FIs can deploy transactional connectivity seamlessly with PayLink.
REtech, InsurtTech and Investing
Expert.ai
Across the pond, in Europe, the insurance industry got a new AI standard ("Enterprise Language Model for Insurance" (ELMI)) developed by Expert.ai, a leading automation firm.
The industry-focused model enables seamless ecosystem digitization for key players.
TruStage Financial Group, Inc.
Leading insurance solution provider TruStage revealed its newest lending product ("Payment Guard Insurance").
"Payment Guard Insurance" provides coverage for loans granted by digital lenders in case of default and has no-code deployment options.
Mulberri/VensureHR/Trion Solutions
Mulberri, the AI-focused InsurTech firm, launched its Certificate of Insurance solution.
The certificates are digital and deployable instantly, eliminating previous hoops for employment organizations.
Mulberri developed the product in partnership with VensureHR and Trion Solutions, leading employment companies.
Guidewire, the insurance solutions provider, revealed the deployment of ClaimsPay (by OneInc) for customers on its InsuranceNow platform.
Customers can now make seamless payments without leaving the ecosystem.
OneInc is Guidewire's payment partner.
---