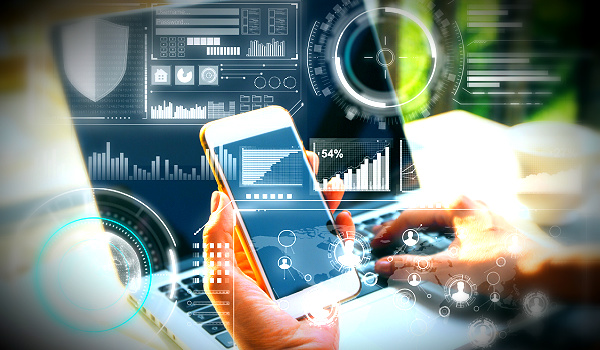 ---
Perhaps no news hit the wealth management industry harder in the last week than the layoffs at Charles Schwab—but that doesn't mean that the wealthtech sector wasn't also brimming over with announcements. 
Depending on whose reports you believe, Schwab last week terminated anywhere between 1,000 and 3,000 jobs in a cost-cutting effort that was announced earlier in the year. The headcount reduction was widely anticipated after the merger between Schwab and TD Ameritrade, another prominent RIA custodian. 
Layoffs and job cuts have already resonated throughout the financial sector—it makes sense that some of the same trends are going to come to wealth tech as well—but it doesn't mean that wealthtech is slowing down or getting smaller. 
In fact, wealthtech is as alive and vibrant as ever—this week we see the anounced launches of not one, but two new wealth management-related technology services in the U.S.–one, AdviserCyber, is an advisor cybersecurity service. Another, Unbiased, which is launching in the U.S. after operating overseas for some time, sounds suspiciously like certain existing advisor lead generation services. 
We also see just in the last week that upstarts like Smartleaf, Bento Engine and Elements are not just growing, but adding new tools, services and functionalities. In news from the likes of Intention.ly and ThoughtLab, we also see that a deepening role is being played by wealth technology in thought leadership and continuing education in the greater financial industry. 
We are led to conclude that though Schwab's layoffs may be just part of the beginning of displacements for an industry that is being reshaped by so many external forces, wealth technology is only going to continue to grow in importance and influence. 
Let's get to some headlines. 
---
AdviserCyber 
AdviserCyber, a cybersecurity service provider for Registered Investment Advisers (RIAs) with $500M to $3B Assets Under Management (AUM) who must comply with the Securities and Exchange Commission (SEC) cybersecurity requirements, announced its formal launch today. In the last year alone, advisers and wealth managers in financial sectors have witnessed an 80% increase in cyber threats and intrusion activity, with investment advisers being particularly vulnerable due to the sensitive nature of the data they handle.  
AdviserCyber's launch comes at a pivotal moment, as pending SEC regulations specifically geared towards RIAs and Broker/Dealers now require firms to prioritize cybersecurity practices like never before. The new rules are designed to enhance a firm's risk management and data protection capabilities. AdviserCyber's mission is to provide robust protection across entire enterprises, while ensuring compliance with the stringent regulations set by the SEC.  
 As the SEC rolls out the new cybersecurity regulations for RIAs, compliance is critical. But real cybersecurity goes beyond checking a box for compliance to ensure RIAs are protected and prepared for ever-evolving cyber threats. AdviserCyber focuses only on cybersecurity compliance for RIAs, delivering a deeper level of cybersecurity with its unique and specific expertise. 
Advisor360 
Financial planning is essential to every successful financial advisor-client relationship. Advisor360°, a leading provider of integrated technology for enterprise wealth management firms, has enhanced its WealthGuide toolkit so advisors can better demonstrate the value they provide to clients.  
Advisor360°'s WealthGuide plays a pivotal role in organizing all aspects of a financial plan and the advisor-client relationship. Tracking decisions, advancing collaboration, and demonstrating total value beyond traditional investment allocation, performance reports, and insurance planning are what WealthGuide delivers. Some of the tool's new capabilities include the ability to link cash flows, assets, and liabilities to specific plans or proposals and a streamlined note-taking experience. 
WealthGuide's enhanced ability to help advisors streamline, optimize, and personalize financial planning is timely. According to a recent Advisor360° survey, goals-based financial planning is critically important to investors who use advisors. Fifty-seven percent of the inheritance generation (individuals ages 20 to 67) assess their advisor's effectiveness based on how well they help them hit financial goals.  
AssetMark 
AssetMark announced a collaboration with Cheetah, a cloud-based trust accounting system, to address an emerging need in financial services. Together, AssetMark and Cheetah are creating a first-of-its-kind, seamless wealth management solution to address the expanding intersection of trust services and investment services with a digital ecosystem that sets both institutional wealth managers and registered investment advisors up for success. 
A convergence of business models across financial services is encouraging trust providers to facilitate more active management of client assets, especially investment portfolios, and is encouraging registered independent advisors to expand into trust services. 
This exclusive arrangement represents AssetMark's continued expansion into the bank trust channel, an integral part of the firm's growth strategy, according to Michael Kim, CEO of AssetMark. 
Bento Engine 
Bento Engine announced the launch of its "Install Now" capability live on stage from AdviceTechLIVE. This self-service onboarding solution allows advisors to embed Bento programs directly into their existing Client Relationship Management ("CRM") system without the need for any human assistance.  
Developed to offer advisors a self-directed pathway for accessing, onboarding and implementing Bento Engine within their CRM, the "Install Now" feature also offers access to Bento support professionals if the advisor wishes to enlist their help. This new offering will guide advisors through the complete onboarding cycle, including product selection, API integration, customization, and billing.    
Bento Engine is dedicated to empowering financial advisors in the dynamic advice engagement landscape. Through Bento's programs, firms and advisors gain access to automated advice alerts that enable them to proactively address wealth management risks and opportunities tied to age milestones and life events ("Moments That Matter"). These alerts can enhance the advisor-client relationship, convert more prospects, streamline processes, and provide a competitive edge in the financial advisory field.  
Crystal Capital Partners 
Crystal Capital Partners, a wealthtech provider and turn-key alternative investment platform for financial advisors, announced today a strategic partnership with Axos Advisor Services, a provider of comprehensive custody and securities clearing services to registered investment advisors and independent broker-dealers. This partnership will integrate the Crystal and Axos platforms, providing Axos clients the ability to seamlessly execute separately managed private fund portfolios utilizing our conflict-free approach to manager selection and turn-key operational solution.    
This new partnership expands the list of major custodial platforms that Crystal is currently integrated with.   
Elements 
Elements announced the forthcoming launch of Elements Money, a registered investment advisor (RIA) designed for consumers who don't fit into the traditional wealth management model. Uniquely, Elements will partner and co-brand with financial advisors, enabling them to extend Elements Money as a service option for prospects and clients who aren't good fits for their businesses today.   
This new way of serving clients aims to bridge the gap and provide access to professional financial advice for individuals with modest assets or relatively simple financial situations. It will allow those who may not meet the minimum assets under management (AUM) requirements at traditional wealth management firms to access valuable advice from seasoned financial professionals.  
Elements Money harnesses the intuitive Elements scorecard and mobile app, streamlining the process for clients to effortlessly provide and translate their financial data. As a result, when Elements refers opportunities to advisors, they can quickly assess the client's current situation, providing valuable guidance during client meetings without the need for extensive pre-work. 
Starting later this year, Elements Money will offer two distinct tracks: 
The free Basic Membership is designed for individuals who have money questions but aren't ready to invest in financial advice. This membership level is rooted in trust-building and offers a glimpse into personalized financial guidance. Central to this is the Elements Scorecard app, providing a financial health snapshot alongside a guide explaining the score implications. Upon the completion of onboarding, a video assessment highlights their financial strengths and areas for attention, sparking consideration for expert financial guidance. 
The paid Premium Membership is geared toward individuals ready for more financial and investment guidance. It aims to address financial questions, open investment accounts, and hasten the transition to a full-service financial planning relationship with the referring advisor. Upon enrolling, members can receive investment management guidance tailored to their risk profiles, with a dedicated team available for inquiries.  
Intention.ly 
Intention.ly will participate in a new educational resource from The American College of Financial Services. The American College of Financial Services announced Knowledge Hub+, a new learning platform that curates the insights from sought-after academics, industry innovators, financial planning experts, and practice management leaders into one dynamic experience. Knowledge Hub+ will launch with over 50 hours of combined CFP® and College continuing education (CE), with 10 hours of new growth-focused content planned quarterly.   
Launching this January, The College will first exclusively introduce Knowledge Hub+ to over 27,000 designees participating in The College's Professional Recertification Program (PRP), followed by a public launch of the new learning platform later next year. The College's vast community will benefit from a robust library of CFP Board and College approved CE provided by in-demand subject matter experts, including Michael Finke, Wade Pfau, Ed Slott, Steve Parrish, Jamie Hopkins, Kelly Waltrich, Tyrone V. Ross, Jr., and more.   
Morningstar 
The retirement groups within Morningstar Investment Management and Envestnet, announced plans to launch a managed accounts service for Individual Retirement Accounts (IRA) powered by IRALOGIX. This new offering will be custodied by Matrix, a subsidiary of Broadridge Inc (NYSE: BR) and will make it easy for individuals—regardless of account balance—to receive personalized investment advice on their IRAs. It combines Envestnet's fund selection and model portfolio-building capabilities with Morningstar Retirement's managed accounts methodology, investment engine, and digital delivery platform. 
Expected to launch in the first quarter of 2024, the service will be packaged within an IRA serviced by IRALOGIX, which offers low-cost investments by leveraging institutional share classes rather than retail share classes. Morningstar Investment Management's platform blends those portfolios to design unique portfolios that are aligned with an account holder's specific profile and situation. It then manages that portfolio for the account holder, adjusting the investment strategy as the person's situation and investment objectives evolve. The IRA product(s) will also have no minimum account size requirements, making it easier for those with low balances to gain access to personalized advice. IRALOGIX is a leading fintech company in which Morningstar Inc. is an investor. 
Orion 
Orion Advisor Solutions, the premier provider of transformative wealthtech solutions for fiduciary advisors, has again strengthened its investment solutions offering by bringing its own lineup of Fixed Income separately managed accounts (SMAs) to the Orion Portfolio Solutions (OPS) platform. 
Orion's Fixed Income SMAs are available through the OPS platform within its Unified Managed Account (UMA) portfolio structure. This includes: 
Orion Short Duration Government Bond

 

Orion Government Bond

 

Orion Short Duration Investment Grade Bond

 

Orion Investment Grade Bond

 

Orion Investment Grade Municipal bond

 

Orion High Yield Corporate Bond

 
Pontera 
Pontera, the fintech company helping retirement savers receive professional 401(k) management from their trusted financial advisor, today announced a partnership with Wealthspire Advisors LLC, an NFP company and independent Registered Investment Adviser (RIA). With this collaboration, Wealthspire will leverage the Pontera platform to expand its 401(k) management capabilities, helping more clients optimize their full financial lives. 
Wealthspire has a national footprint with 22 locations across 12 states and oversees approximately $20.5 billion in assets under management* across its entities. Leveraging Pontera, the firm can now rebalance retirement plan accounts in a single interface without ever handling client credentials. 
Pontera's platform is SOC 2 Type II and ISO 27001 compliant and supports a number of operational improvements, including:  
RiXtrema 
RiXtrema, a New York-based pioneer in developing innovative tools for financial analysis and communication through the use of machine learning (ML), artificial intelligence (AI), and data science, announced the launch of its newest AI product, RemAI. RemAI has the power to revolutionize research, communication, and trading in financial markets. 
The new product could be likened to "ChatGPT for finance." It has finance-related knowledge and technological capabilities that simply are not present in ChatGPT. It's a stunning new technology that leaves ChatGPT in the dust. 
Smartleaf 
Smartleaf announced its total assets under management have now exceeded $50 billion. This milestone not only signifies the maturity of Smartleaf's cutting-edge technology but also reflects the growing demand for its services, which streamline personalization and tax optimization for both advisors and investors. Further, it underscores the market's clear recognition of these capabilities as vital competencies, rather than mere products. 
Founded in 1999, Smartleaf enables wealth advisors to deliver personalization and tax management with unprecedented scale. With Smartleaf's intuitive platform, portfolio customization is as straightforward as selecting choices from pull-down menus, and implementation is seamlessly automated. This, in turn, allows financial advisors to spend zero time on portfolio rebalancing and trading, granting them the invaluable freedom to prioritize what truly matters – their clients' financial goals and well-being. 
Snappy Kraken 
Snappy Kraken, the marketing technology innovator serving financial advisors, announced a strategic relationship with LPL Financial, one of the nation's largest independent broker-dealers. Effective immediately, the approximately 22,000 LPL-affiliated advisors can utilize Snappy Kraken's complete marketing system designed specifically to support the growth of their practices, including award-winning content, marketing automation, personalized websites, and its done-for-you marketing program, Freedom360.  
Snappy Kraken's services, available through LPL's Vendor Affinity Program, include: 
Freedom360—a fully managed, done-for-you marketing system allowing advisors to build stronger relationships with clients and book more appointments with prospects while freeing them up from managing and executing marketing programs. 
Marketing content and automation with built-in AI Tools – original content, pre-built automations, and award-winning designs that make it easy for advisors to deliver pro-level marketing for a fraction of the cost. 
Website services through Snappy Kraken's website division—creating personalized websites to attract and convert an advisor's ideal customer. 
Cold to Gold Framework—the six-step, data-backed strategy that increases marketing return on investment. 
ThoughtLab 
ThoughtLab has joined forces with a group of wealth management leaders to analyze how technology innovations, mounting regulations, heightened competition, sustainability pressures, and demographic shifts will redefine investor needs and experiences and reshape the industry at a time of growing economic uncertainty. 
To prepare for this next era of wealth management, investment management firms need a clear view into the changing expectations of today's diverse range of investors over the next three years and beyond—and how competitors are rethinking their investment products and services, go-to-market strategies, value propositions, and business models to thrive in a rapidly transforming industry. 
To investigate these trends and what they will mean for the industry, ThoughtLab is working with wealth industry leaders to conduct a rigorous research initiative called Wealth Management Megatrends: Preparing for disruptive investor, digital, and industry change. ThoughtLab is conducting the research in partnership with Deloitte and FNZ, and with the sponsorship of Amazon Web Services, Genesys, and London Stock Exchange Group (LSEG). 
This comprehensive study will consist of two worldwide surveys conducted in October to November 2023: one survey will target 2,000 worldwide investors across demographic and psychographic profiles, and another will cover 250 wealth and asset management providers. To get a broad perspective, the program will include insights from an advisory board of leading wealth management executives; in-depth interviews with industry experts and practitioners; and economic modeling and analysis by ThoughtLab's team of economists. 
Unbiased 
Unbiased announced the launch of its personal finance platform in the United States. To coincide with this expansion, the company has also unveiled a new website, Unbiased.com, which caters to the needs of American consumers. 
The new Unbiased.com features a comprehensive range of financial information and resources that empower people to confidently make financial plans and decisions, from buying a house to planning for retirement. An information portal for personal finance, Unbiased.com provides free guides, tools, insights and information about topics such as mortgages, insurance and investments, and will soon launch a comprehensive directory of Unbiased financial advisors, allowing users to easily find and compare advisors in their area. Similar to its sister site in the United Kingdom, Unbiased.com has the ability to match customers with individual financial advisors who have the expertise that meets their specific needs. 
Unbiased.com provides a clear alternative to many of the existing financial websites in the U.S. which aggregate and sell leads to financial advisors. Instead, Unbiased.com will custom pair consumers with a single advisor based on the customer's economic standing, age, goals, location and other factors. As a result, consumers can seek financial guidance knowing that their contact information won't be shared with multiple parties.