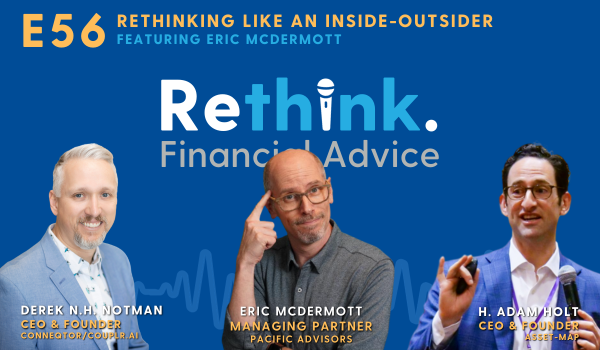 ---

Sometimes the best way to see what's broken and figure out how to fix it is to take an outside looking inside approach.  That's just what our guest did when we left a long career in marketing to become a financial advisor.  Let's face it, it's easy to put blinders on as a financial advisor given how much we have to learn while at the same time building our business, so it can be years before coming up for air only to realize that maybe there are things we can do better or differently.  Join us as we unpack this and other Eric-ism's in this fun and thought provoking episode.
In this episode Eric, Adam and Derek chat about:
Transplants from other industries see more clearly

Two camps of biases both built around products

Using diversification to reduce your earning risk, and conflicts of interest, as an advisor

How the Compensation issue can be solved by Diversification

How the solopreneur is an endangered species

Becoming compensation agnostic to be able to offer Financial Advice 1.0, 2.0, 3.0.

And more!
And more!
---