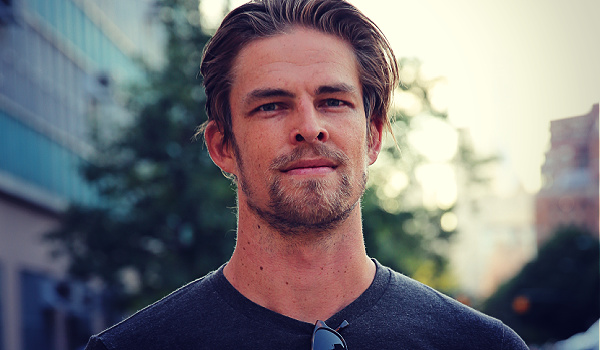 ---
Digital Wealth News is pleased to bring you our "Fintech Luminaries" series – featuring thought leaders within the digital wealth and blockchain ecosystems.  For the next feature in this series, we'd like you to meet Pierce Crosby, General Manager of TradingView, which states it is the world's largest marketplace for investment ideas, financial information, charting, and data visualization.
NAME: Pierce Crosby
TITLE: General Manager
COMPANY: TradingView
WEB ADDRESS: www.tradingview.com / www.piercecrosby.com
---
How did you personally become involved in fintech?
For the past decade or so, I've been working in fintech in some capacity, but my full time involvement kicked off back when I joined Thomson Reuters in 2012. As the head of research for the Breakingviews, I was thrown into the intracies of a thriving fintech landscape; from technology M&A to data tech, latency tech and trade tech. For those who don't remember, Thomson Reuters (now Refinitiv) was fintech back when it was just 'financial technology'. Now it's a trendy buzzword with 20x multiples, and usually applies to payments companies, which is fine, but it was still a big busienss before all that.
Since my time at Breakingviews, I've worked on a lot of other projects, advising fintechs on corporate strategy and mentoring other founders along the way. I worked at StockTwits for what felt like a lifetime, and now am fully invested in building TradingView, the world's 107th largest website.
What does your firm do/offer within the fintech sector?
TradingView is bringing access of extremely advanced technology and data to the world. Even a decade ago, access to the scale of technology we provide was impossible. We are opening up data, charts, and tools to empower investors and help them build better financial futures. Often in financial markets people are either completely ignorant to what they're investing in, or they have someone do it for them. We believe we can help people educate themselves, learn markets, make the right financial decisions, and have fun along the way.
What is your role within your firm and what do you do there on any given day?
As the "GM" for the business, my job is to move ideas to reality. Our founders are the true innovators at TradingView, and it's my responsbility to make these ambitions a reality. Working with some of the biggest companies in the financial technology landscape, we are constantly shaping and re-shaping the future of our technology. On any given day, I am likely on calls with our product team, marketing department, growth team, talking to reporters, hosting live streams (on TradingView), and building awareness across the financial ecosystem as to what we do.
What area/s of fintech do you believe will grow the most in the coming 5 years?
I'm confident that the empowerment of individual investors will remain a dominat theme in 2021 and beyond. In 2020, our business grew by more than 140%, and we don't expect this to slow down. The number of people around the world who are waking up to investing is awesome, and we're excited to help people get started on their journey towards financial independence.
What fintech leader do you admire the most and why?
Well, of course, I admire what Jack's built at Square, and the team he's assembled there is top notch. But two of the most innovative thinkers in fintech today are Zach Perret, cofounder of Plaid and Lowell Putnam, the founder of Quovo (which Plaid aquired). Both are extremely cognizant as to how fast the world is changing around us, and set out to built the technology that will gather mass adoption in 2030. They also happen to be super nice and generally gracious with their time. I think a lot of founders often forget how hard it was starting out, and these guys still do their best to help out others in the ecosysyem. Can't beat that.
---
Pierce Crosby is the General Manager at TradingView, based in New York City. He is an investor and advisor to early-stage fintechs in North America and Europe. He received an MA from Columbia University, a BA from the University of California, Santa Cruz, and is the founder of Merchant Seven.