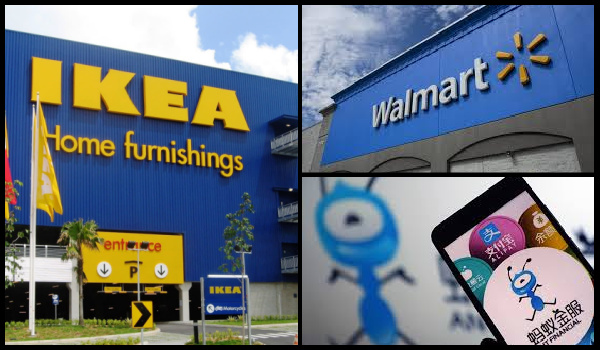 ---
Isn't it remarkable to read that headline? Here are three of the world's great retailers – selling affordable goods to the public the world over – and yet, retail sales alone are not enough for any of them.
All three have now taken major moves into fintech and digital banking.
On February 11, it was announced that Ikea was acquiring a 49% interest in Ikano Bank AB, with an option to acquire the remaining 51% position at a later point.
According to the announcement, Ingka Group, which operates 378 IKEA-stores and its e-commerce platform in over 30 countries, and Ikano Bank originate from the same founder. However, the bank split off as a separate operating unit from Ikea over three decades ago, in 1988.
"This agreement brings us a step closer to fulfilling Ingka Group's ambition to offer competitive and accessible financial services, enabling even more people to have better homes and thereby, better lives," said Krister Mattsson, managing director of Ingka Investments. "As customers and retailers increasingly seek banking solutions with a strong digital foundation, our commitment to work even closer with Ikano Bank during its digital transformation is a great opportunity to serve new and existing customers alike."
While IKEA is certainly a substantially smaller retailer than Walmart, it's still noteworthy that the firm is moving into (or back into) fintech with this acquisition. As the largest retailer in the world, Walmart has long taken a leadership position in the financial technology arena and back in January, announced the pending launch of a new financial technology firm, in tandem with venture capital firm Ribbit Capital, "designed to develop and offer modern, innovative and affordable financial solutions".
Back in 2017, we also wrote a post for our prior media firm FintekNews about how Walmart had teamed up with two fintech start-ups – Even & PayActiv – to offer its 1.4 million associates a suite of financial wellness products. Walmart was also one of the first retailers worldwide to employ blockchain technology (via its partnership with IBM) to monitor its supply chain. So the boys and girls in Bentonville, Arkansas have seen this financial technology rodeo before.
Finally, we would be remiss if we didn't mention the work of Jack Ma with Ant Financial (formerly Alipay), which was a spin off of online retailer Alibaba, and is considered the largest financial technology firm in the world. Many may recall that Ant Financial was set to go public in late 2020, when the brakes were applied to the IPO by Chinese regulators just two days before the public offering. In mid-January, South China Morning Post reported that Ant Financial had agreed to overhaul its business structure, as dictated by China's central bank and regulators, and would be regulated as a financial institution instead of a tech start up moving forward.
With the latest news of Ikea's entry into consumer-facing fintech, along with Walmart's and Ant Financial's ongoing directives, it appears that the retail shopping sector is now firmly implanted within consumer finance – surely a trend we will continue to see in the months and years moving forward.
---