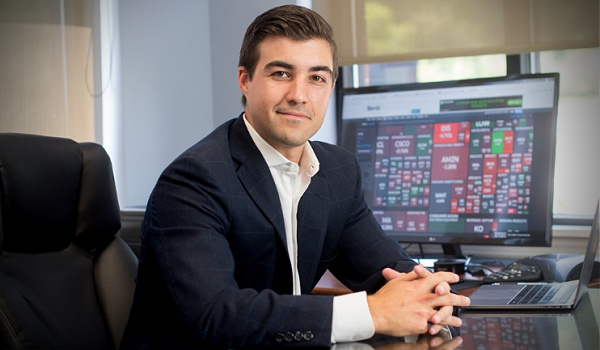 ---
Digital Wealth News is pleased to bring you our "Fintech Luminaries" series – featuring thought leaders within the digital wealth ecosystems. For our latest feature, we'd like you to meet Brad Roth of THOR Financial Technologies, which provides solutions that enables advisors to deploy their client portfolios in a more intelligent way with a main focus on managing risk.
NAME: Brad Roth
TITLE: Co-founder and CIO
COMPANY: THOR Financial Technologies
---
How did you personally become involved in fintech?
I became obsessed with computer driven trading early in life. I started trading when I was 12 years old and realized, as I matured, humans are not wired to handle emotions properly to be smart investors. As humans, we are terrible at controlling our emotions and even worse we tend to act on these emotions at the worst possible times. It became very clear when I was starting my career that clients would panic at the wrong time and get excited to invest at the wrong time. Which led to a constant cycle of buy high and sell low. So I left my job in traditional finance, built a computer driven process that is 100% automated and completely unemotional and never looked back.
What does your firm do/offer within the fintech sector?
THOR works directly with Financial Advisors and their firms providing them with technology driven investment portfolios. It allows advisors to differentiate themselves from a sea of competition by delivering them portfolios that move away from 'old wall street' methods. What makes us specifically unique is we can make any current portfolio dynamic, which gives advisors the freedom to choose their own investments while creating technology driven models that can improve risk adjusted returns over time. We also deliver advisors access to crypto currencies directly so they can start to utilize them in their asset allocation for the growing number of clients begging for crypto exposure.
What area/s of fintech do you believe will grow the most in the coming 5 years?
Personally I think anyone who is offering advice, access, and education in crypto currencies will see tremendous growth. The vast majority of advisors are behind the eight ball when it comes to implementing these strategies holistically (or at all in their practice). Firms who can help assist advisors implement crypto either passively or actively will be a necessity over the next 5 years and beyond. As crypto assets are no longer being put off or ignored by the advisor community and their clients, advisors need a way to provide advice in this area sooner rather than later.
---
Brad Roth is the co-founding principal and CIO of Thor Financial Technologies. Mr. Roth brings over a decade of trading experience to THOR and its mission to support financial advisors by preserving client capital and finding opportunity signals throughout global markets.