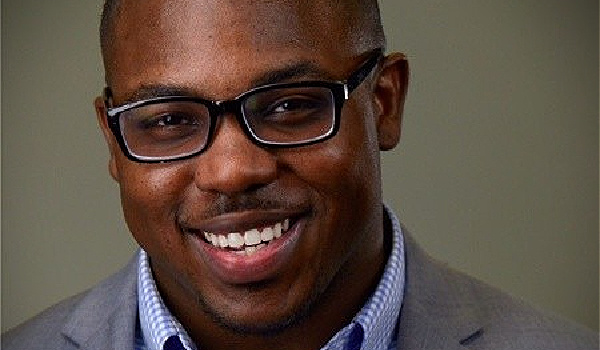 ---
Until a few years ago, David Gamble didn't see himself in the financial industry, let alone the digital assets space.
Gamble, who is now a Portfolio Manager at Sarson Funds, a crypto asset manager and education platform for financial advisors, graduated from Alabama A&M University with a biology degree, intending to become a doctor.
In 2014, while serving as a research intern for a U.S. Department of Energy project at Fisk University in Nashville, Gamble began to learn about crypto.
"I was not so interested in it as an investment, but the technology did pique my curiosity and started me down this path," he said. "Digital assets appealed to the science side of me, so I teamed up with a couple of buddies of mine and we started mining. That was my introduction to bitcoin."
That mining operation led Gamble to found a website to discuss his interest in cryptocurrencies, bitcoinwolf.com.
Ultimately, that interest grew into a curiosity about the financial industry in general, because of financial hardships in Gamble's family. While he is the child of two professionals, his family suffered from a lack of financial literacy that at times cost his parents. During his school years, he would work on cell phones and computers to help pay his way.
Moving back to his hometown of Tampa, Gamble began looking for a job in finance, eventually finding himself at Raymond James. The compliance rules of that job meant the end of bitcoinweallth.com.
"I felt like I made the best decision, at that time cryptocurrency was still a gray zone and I moved forward with a career at Raymond James Financial," he said. "I got in as a contractor and basically decided I would work myself up by building relationships. I eventually found myself in a full-time role. I decided I would work myself into the building and into the right kind of reputation so that, maybe, further along in the future, I could go back to crypto full time."
Gamble gambled that in the interim, regulators and traditional finance would gain a better understanding of digital assets and what cryptocurrencies entailed.
During his time at Raymond James, Gamble became a senior mutual fund trader, eventually becoming a candidate for an elective program at the company and mentored by several C-suite personalities. He also engaged upon a "micromasters" program at MIT Sloane to get more knowledge on traditional finance and eventually pursue a MBA.
"I found myself in a program at Raymond James that taught me a lot of great leadership qualities and allowed me to take great strides in my career," he said. "But I kept going back to bitcoin conferences and staying active in this space."
He wanted another shot. In June 2021, Gamble attended a digital assets conference in Miami and started to look for opportunities to work in the crypto space.
That's when Gamble connected with Sarson Funds.
"The opportunities in crypto seem like a lot, but it turns out that they are very hard to get, there's a lot of competition," he said. "I found myself speaking to one of their former employees and getting introduced to John Sarson (CEO and co-founder) and Brittany Keels (COO). I felt like the team was well-rounded, they had a nice office environment—I was really looking to get that startup feel."
Gamble spoke to his mentors at Raymond James, who understood his passion for digital assets and encouraged him to follow his dream.
In November 2021, Gamble joined Sarson Funds as vice president and junior portfolio manager. Today, his role is to oversee Sarson's Stablecoin Fund and participate in much of the firm's research and analytical work. He also helps research potential seed-round investments for Sarson.
"This is a different side of finance for me, and I'm taking it stride-by-stride, but I've always had in mind that crypto and digital currencies are ultimately the future," he said. "We have this snowball effect of people, meaning the general public, becoming understanding of all-things crypto, and the pandemic has been one of the leading factors in that."
The coronavirus pandemic, according to Gamble, catapulted the world into a faster pace of ingesting and mastering information and moved the public towards embracing digital experiences.
The shift can be seen in the expansion of modern-day applications like TikTok, Robinhood, roboadvisors, and Instagram.
"All of this has been conducive to digital currencies, it all works together symbiotically," said Gamble. "There's this synergy between all things social media and all things digital currencies."
On a much larger scale, institutions and sovereignties are also becoming involved in digital assets, said Gamble.
Even China, which has cracked down on cryptocurrency banking and mining in recent years, is aggressively pursuing its own central bank digital currency, the digital Yuan, said Gamble.
"We're all moving towards the digital currency space, but there's still a question of what is the best avenue to take, what will it eventually look like, in the future," he said. "The common element is that digital currencies are part of our future, and that's one of the reasons I wanted to take a leap of faith going into cryptocurrencies."
While companies like Raymond James, Gamble's former employer, have moved slowly into the crypto space, Gamble believes that the momentum behind digital assets will force the traditional financial industry to get involved which, in turn, will require regulators to become more clear about where they stand on the topic.
With that shift towards digital assets will come opportunity. "We'll see more institutions become much more comfortable, especially after regulation become better defined, and that provides them incentive to look for companies like ours who can help them understand this space," said Gamble. "It also creates opportunities, ultimately, for smaller shops, to produce alpha in the space while they still can. This is such a competitive space, once those institutions start seriously moving forward, once they are better equipped, we will see a huge turnout of investment into this space which will define the level of sophistication that enters this space."
---