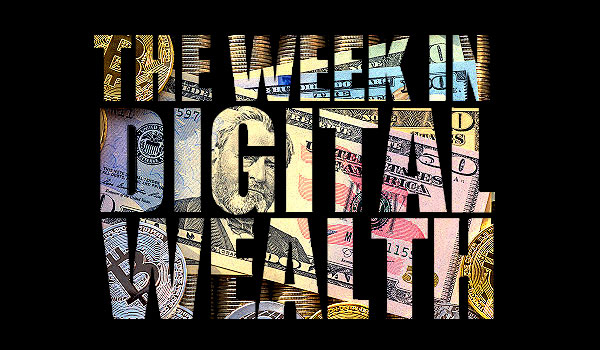 ---
By Gregory Bilecki
TWIDW 5/23/22: No bottom for BTC currently in sight, FitRated puts their "meta motivation" question to the test, Ethereum Name Service sees a bump, PayPal and Balenciaga go all in on crypto, the CFPB and NY AG target predatory payday loan agents, US-based equipifi brings its white-label BNPL solution to banks and credit unions, Klarna eyes fresh money, Wall Street thinks a CBDC will be a credit drain, SWIFT is planning its first test-run of an interconnected CBDC messaging network.
Fed News & Market Impacts
The good news: BTC is showing some bull flags which may be taken advantage of over the next few days. The bad news: No signs indicate the bottom has been priced in yet.
Last week, the GOP introduced a bill that would provide investors with the ability to add Bitcoin to 401(k) retirement plans. The bill, otherwise known as the House companion of the Financial Freedom Act of 2022, was introduced by Rep. Byron Donalds (R-FL). If it passes, the bill would prevent the U.S. Labor Department from restricting the type of investments that 401(k) account holders can select, including Bitcoin, something that Fidelity plans to make available later this year.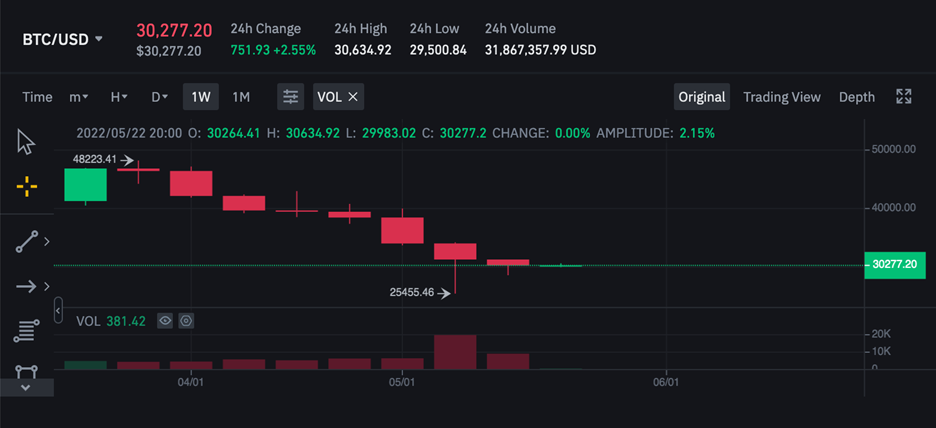 Republican members of the US House Committee on Financial Services this week sent a letter to Federal Reserve Chair Jerome Powell outlining the tasks they see as most salient in the path toward a US-based CBDC. Lawmakers have also since asked the Fed to discern inefficiencies in the US payment system and examine whether a CBDC would mitigate them, as well as address parts of the financial system that a CBDC could improve.
This comes all conveniently after that time the Fed released a discussion paper on a possible digital dollar in January where pros and cons of a CBDC were identified, and invited public comments to open the discussion on how a CBDC could improve the domestic payments system.
Meta This, Meta That…
Health and wellness website recently surveyed FitRated more than 1,000 people across the country of all different backgrounds, body types, investing experiences, and was able to gauge just how much people would be motivated to work out in the metaverse. Attributes researched were specific blockchain-related incentives such as Bitcoin in exchange for marathons, and which franchises they're most hoping to see make their marks in the metaverse. Of note, it was found about 81% of people would be motivated to stay fit by earning cryptocurrency, while over 60% of people would exercise 5 days a week for one year to earn 1 BTC.
During May, the popularity of the Ethereum Name Service (ENS) domain name system increased significantly. This was announced with reference to the main metrics by the main developer of the service, Nick Johnson. The last time such a high demand for the service was observed at the end of last year and April of this year. ENS is a distributed technology based on the Ethereum chain that provides an elegant solution to those long crypto addresses: one URL, just like a website name or email which represents it.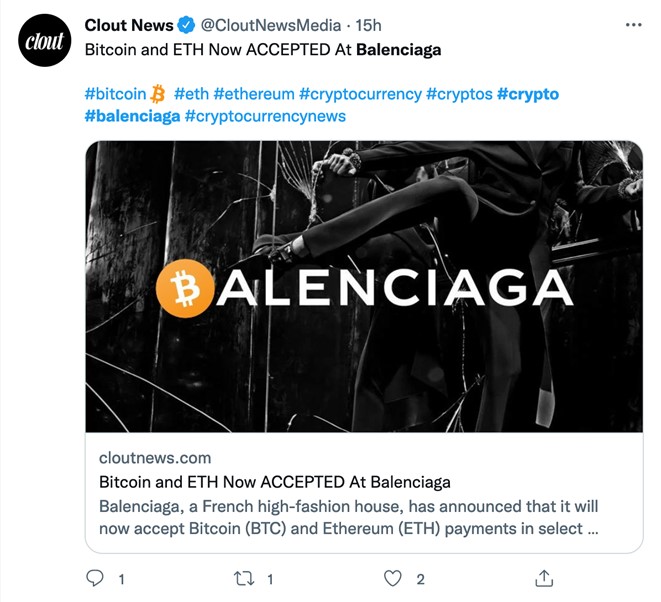 The activity of users could be affected by a decrease in transaction fees in Ethereum. At the time of writing, the average gas fee is about $1.02 versus $50 or more during periods of high network usage, according to blockchain analysis firm Dune Analytics. Record strong performance in a downturn in the market has allowed the service to accumulate funds for ongoing development and weather further volatility. Over the past week, the asset has risen by 23.4%, to $12.71.
The Payment Space
PayPal, known globally for being one of the world's leading online payment systems, may soon soon accept all forms of crypto and blockchain services. This was made known recently by Richard Nash, the company's vice president. PayPal's acceptance of crypto is a huge milestone for both the company and users alike. The security of the platform expected to be a boon on thwarting crypto fraud and scams. PayPal had previously worked as a form of wallet for deposits and payments of goods and services, and the introduction of crypto to the platform means it will be seen as more of a true form of payment in addition to hopes of bridging the income gap many areas of the world still face.
The federal Consumer Financial Protection Bureau (CFPB) and the New York state attorney general filed a proposed judgment in federal court to settle its case against a group of debt collection firms that have a "history of deception and harassment," according to a press release. The judgment, if approved, would require the defendants to exit the debt collection industry and pay a combined $4 million in companies.
According to the complaint, the companies bought debt consumers they had collected through payday loans and credit cards and then collected $93 million from 293,000 consumers from 2015 through 2020. Based at a single location in New York State the companies "purchased defaulted consumer debt for pennies on the dollar" and used social media to threaten consumers.
Balenciaga revealed it is now accepting payment in cryptocurrency. Starting with the U.S., the brand is accepting crypto at its flagship stores, including on Madison Avenue in New York and Rodeo Drive in Beverly Hills, as well as on balenciaga.com. Other regions and e-commerce will follow, the company said.
The fashion house is still deciding what payment solutions provider it will use, but it will accept currencies like Bitcoin and Ethereum to begin and other currencies will be added soon after. The brand joins Gucci and Tag Heuer in accepting crypto as payment. Gucci will accept 10 cryptocurrencies in key U.S. stores from the end of May, which will then roll out throughout its store network through the summer.
Deals and Capital Raises
Scottsdale, Arizona-based FinTech equipifi has raised $12 million in a Series A funding round to continue rolling out its white-label BNPL service to banks and credit unions, the company announced in a recent press release. equipifi already has entered into multiyear contracts to provide the service for seven financial institutions, the release stated. The firms were not disclosed. The service relies upon existing institutional data and online banking platforms.
BNPL giant Klarna is eyeing a new raise that could put their valuation close to an estimated one-third below the roughly $46 billion it came in at less than a year ago. The payments company could ask new and existing backers for as much as $1 billion in a deal that could put its total valuation in the low $30 billion range. The news comes after the announcement of a 10% workforce reduction due to the effects of inflation and the Russia-Ukraine war, Klarna CEO and Co-Founder Sebastian Siemiatkowski said recently, approximately 700 people, this coming shortly after the company had posted a $689 million loss for the year ending 2021.
The CBDC Experiment
Wall Street lenders want the U.S. government to slow down on their plans for a digital dollar, citing a CBDC could end up draining hundreds of billions of dollars from the banking system. There's no official plan in place for a U.S. central bank digital currency (CBDC) yet, though if the US CBDC does get made, the American Bankers Association and the Bank Policy Institute think it would be a competitor for private bank deposits, and would make credit less available for businesses and households.
The well-known global financial messaging service SWIFT is soon set to test CBDCs by interlinking several CBDC networks in order to execute cross-border payments. CBDCs for cross-border payment solutions was a blind spot for this type of digital currency since its development had the primary focus on resolving issues in line with domestic policies. However, Thomas Zschach, Chief Innovation Officer at SWIFT, expressed that new and unique CBDC networks must work together to enable frictionless transfers across borders, where SWIFT will play a critical role.
---
Gregory Bilecki is a freelance editor at Digital Wealth News, as well as full-time finance, digital marketing, and sushi aficionado. Follow him on Twitter and Instagram at @omgreaktmedia.