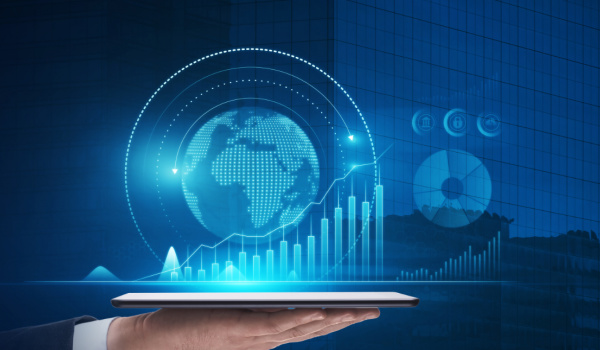 ---
By Christopher Robbins
As we approach midyear and the U.S.'s July 4th holiday, the digital wealth world is running especially hot.
In this week's sampling of recent headlines, we feature news from a few up-and-coming banking and payments providers, a large smattering of wealthtech and investtech news to augment an already-packed Advisor Tech Talk column, and some highlights from the always frothy worlds of cryptocurrencies and other digital assets.
There's no time to waste, let's get to the headlines:
---
Banking, Payments and Infrastructure
First American Data & Analytics — First American Data and Analytics announced the launch of FraudGuard Home Equity, a new single-source solution for fraud risk management designed and configured specifically to help home equity lenders streamline their use of third-party vendors, while reducing costs and improving efficiency.
Sardine — Sardine, a behavior-based fraud, compliance and payments platform, announced Simon Taylor as its new Head of Content & Strategy. The news comes after Sardine achieved its latest milestone of acquiring over 100 customers. Taylor brings years of experience advising governments, regulators, banks, financial institutions and fintech companies, helping them innovate their business models by adopting new technologies, like web3.
Truist — Truist Financial Corporation announced the grand opening of its Innovation and Technology Center, a space designed to reimagine the client experience for the more than 6 million interactions that take place daily at Truist. The 100,000-square-foot, state-of-the-art facility will be located at Truist Center in Charlotte, North Carolina, and feature client journey rooms, a research lab and collaboration hubs where agile teams of innovators, product managers, engineers and designers will work with clients to build a better banking experience.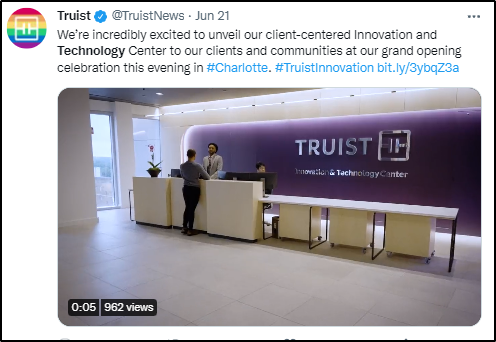 FDX — The Financial Data Exchange (FDX) reported that 32 million consumer accounts are now using its FDX API for open finance data sharing. Since FDX's last report in January 2022, nearly one million additional consumer accounts per month were transitioned to the FDX API, representing an increase of 4 million additional consumer accounts using the FDX API today. FDX also reports that API calls have grown to 2.9 billion per month, illustrating the continued expansion of data usage in the FDX API.
MonetaGo — Financial technology solutions provider MonetaGo has appointed Ben Arber to the newly created role of managing director, US and Canada. Based in New York, Arber will lead MonetaGo's US and Canadian operations, bringing together North American and global financial institutions to drive adoption of the company's universal, standardized de-duplication utility, which combats financial fraud in trade finance.
WealthTech, InsureTech and InvestTech
Bento — Bento Engine announced a substantial investment from veteran wealth management leaders and senior executives following a year of accelerated growth and adoption by financial advisory firms. Bento's technology and content solution integrates with leading CRMs such as Salesforce, Dynamics, Practifi, XLR8, Redtail and Wealthbox to identify upcoming highly impactful advice opportunities for clients through advisors' existing systems.
Using APIs, Bento's technology and content solution scans large data sets to identify ways for advisors to offer proactive advice, then delivers a package of timely, highly relevant, proprietary, compliance pre-approved, client-facing content and communication resources as an actionable CRM task.
Acrisure — Acrisure, a fintech that operates a large insurance broker, announced Kelly Conway as its chief human resources officer. Conway joins Acrisure with more than two decades of experience leading global human resources business partner functions as well as talent management, recruitment, training and development. In this role, Conway will work with the firm's executive leadership team, developing and executing strategies that impact culture and organizational performance.
SmartRIA — SmartRIA, a cloud-based software solution designed to meet the compliance management needs of investment advisors, compliance teams, operations teams, consultants, and attorneys, today announced a strategic investment from The Compound Capital Fund I, LP, a fund sub-advised by Ritholtz Wealth Management. This collaboration between SmartRIA and Ritholtz Wealth Management will drive innovation in the wealth management industry by combining RWM's investment management expertise with SmartRIA's innovative compliance technology.
YieldX — YieldX, a FinTech company reimagining fixed income investing, today announced a partnership with Jefferies. Jefferies' Wealth Management advisors will now be able to access and leverage the full YieldX solution set to broaden the firm's current offering of fixed income-generating portfolios for clients. The YieldX ecosystem empowers Jefferies' advisors to comprehensively analyze yield-driven securities; build custom portfolios aligned to their clients' needs in a matter of seconds; and continually optimize those portfolios over time to boost yield and lower risk.
Crypto and Digital Assets
CloudWalk — Brazilian fintech CloudWalk, which provides payment solutions for small and medium-sized businesses, will launch its own blockchain, a ledger that that records cryptocurrency transaction and operations. With its own network, it can handle 500 transactions per second – 70 times more than before, when it was based on blockchain platforms such as Ethereum and Polygon. And the goal for the coming months is bold: to handle 5,000 transactions per second.
BitGo — BitGo, a digital asset custody, liquidity and security provider, announced the launch of their non-fungible tokens (NFT) hot wallet and custody solution. The company said it is the first U.S.-qualified custody solution that can be paired with hot wallets for the NFT industry, providing marketplaces, retail platforms and NFT portfolio holders with the guardrails needed to participate in the NFT ecosystem. This allows clients to interact with a variety of decentralized marketplaces, including OpenSea, Looks Rare, ArtBlocks, Gem, Rarible, and more.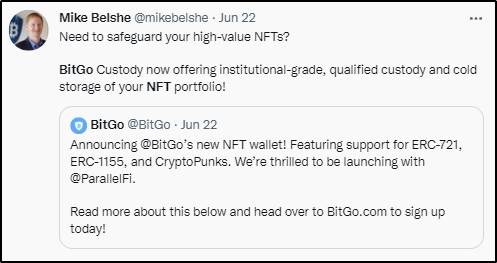 ZELF — ZELF announced it has expanded to the United States as a bank of the Metaverse, bringing game loot, NFTs and fiat under one banking roof. For the launch ZELF chose to make NFTs more tangible by bringing NFTs to the wrists of 50 million Americans, the Apple Watch users. 100 million Apple Watch wearers worldwide will soon be able to "bridge" their non-fungible token collections of digital art to their watch faces.
Northern Trust — Recognizing the growth of digital markets alongside the continued evolution of the traditional securities services marketplace, Northern announced the formation of its Digital Assets and Financial Markets group, which will be led by Justin Chapman who currently is global head of Market Advocacy Innovation and Research. The new group combines the teams responsible for supporting the fast-growing digital asset markets and those dedicated to providing market access and insights across the traditional securities services markets.
Ripple — Ripple announced a new office in Toronto that will serve as a key engineering hub. The new office will be Ripple's first in Canada, supporting its continued growth in North America and beyond. The company plans to initially hire 50 engineers in Toronto with the goal to expand to hundreds of blockchain software engineers including applied machine learning scientists, data scientists, and product managers.
---