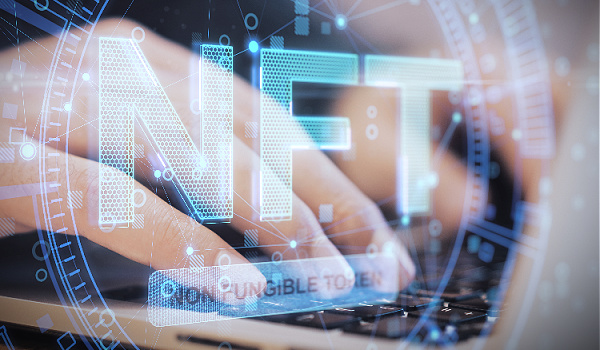 ---
In case you just pulled a Rip van Winkle and are emerging from a blissful rest, you already know that cryptocurrencies have had a rocky 2022—but cryptocurrencies are not the only digital assets being developed and traded right now.
Non-fungible tokens, or NFTs, have diverged somewhat from their crypto cousins, said Ivan Dimov, community manager and NFT consultant at Sarson Funds, a crypto asset manager and education provider for the wealth management industry.
"Crypto-winter, let's call it, has created a good space for institutions to figure out what they want to do with NFTs and take the time to develop the right concept, even if the demand isn't there right now," he said. "We've seen some corporations to this point acting out of a fear of missing out and moving forward quickly with projects, companies like Budweiser (AB InBev) and Skyy Vodka (Campari Group) have pushed to get into the marketplace, but most other organizations are taking a patient approach and learning without putting anything out yet."
Most of these companies are waiting for the market to turn before officially launching NFTs, said Dimov.
The Waiting Game
While the prices of most NFTs have declined as investor appetite for risk assets waned, Dimov says that there has been a lot of activity in the development of new NFT projects and communities. A lot of the new developments are focused on taking NFTs beyond collections of profile pictures and simple digital art, and leaning towards projects that have more utility, said Dimov.
If anything, the volatile market has helped the NFT market shake out some lazy, poorly conceived, or hastily launched projects, said Dimov. As economic times have become tighter, investors and collectors are being more careful about which NFTs they buy.
"Two years ago, projects were selling out regardless of what the art looked like, and that no longer works today," said Dimov. "If you're not offering some sort of additional value, people really only want high-quality art, or something from a well-known artist, something that gives the NFT extra worth."
So, companies sitting on the fence are finding out that jumping into the NFT space is not as easy as it looks—but some very promising moves are being made by a set of companies that have already spent at least three-to-six months developing their projects.
One of these companies poised to take the leap into NFT is TicketMaster, the event ticketing hub, that has been exploring mixing traditional ticketing with NFTs.
"Your ticket is going to be an NFT," said Dimov. "In the day, you would save your ticket stub, but now your ticket is an NFT that you can save digitally forever."
NFTs are already being used to offer access to special events, or to enable certain event-goers exclusive access to special areas, said Dimov.
Going Phygital
Another area where DImov sees NFTs continuing to make inroads is among companies that have rewards systems. One Sarson Funds NFT client, Bugatti Group, is launching an NFT project to reward buyers of its high-end bags and luggage.
"It makes sense that reward systems will evolve to NFTs, so many of the everyday things we do are going to be tracked back to blockchains and NFTs that rewards wallets will become easier for companies and consumers," he said. "We can now build programs and products attached to NFTs—so Bugatti Group is specifically tying their NFT to their physical merchandise, adding limited numbers to quantities and linking them to NFTs to verify the authenticity of the product and provide support to that product."
Bugatti Group is entering what Dimov calls the "phygital" realm, where digital and physical concepts are blurred as one—so a physical product's value is augmented with an NFT that not only has a representation in the digital realm, but also creates a lasting link between producer and consumer.
Travel companies are looking at NFTs for ticketing, and mobile phone operators are exploring NFTs for certain tracking functions among smaller groups of people, said Dimov.
In another example, David Bowie's estate is launching "Bowie on the Blockchain," an NFT series featuring creations of nine different artists using pieces pulled from the Bowie archives, with a sale planned on OpenSea—originally slated for Sept. 13, it was postponed due to the death of Queen Elizabeth II.
"iHeartRadio, which is owned by ClearChannel Communications, is dropping NFTs that they've been working on for the last three-to-six months," said Dimov. "The market is so quiet right now that people have an opportunity to make a splash. Puma, another big company, is doing a drop. Patron tequila will be joining the metaverse with a drop of wearable NFTs."
A lot of brands are eager to give away NFTs as metaverse wearables to make sure they are represented should the interactive virtual worlds catch on.
A Value Opportunity?
Still, NFT prices are down, acknowledged Dimov, and transactions have slowed.
"We haven't decoupled relating the value of crypto to the dollar or to stocks, and we don't relate the value of NFTs to crypto, but values are down in any case," he said. "Eventually, most people think that decoupling will occur, and some of those values will be coming back. But most NFTs are collectibles, and quiet markets create great opportunities for collectors. I like NFTs, I'm big on both utility and art, and this kind of market allows me to pick up NFTs both from a collection perspective and as a long-term investment."
The Future for NFTs
Smart contracts have been evolving for the last three years, said Dimov, and developers are finding new uses for them while making them more efficient and more transparent.
"The technology just gets better and better with time," he said. "As we continue discovering the Web3 space, we're only going to find smarter smart contracts."
The problem with NFTs right now is mostly one of perception, said Dimov. Too many people associate NFTs with early, hastily launched projects that literally were just profile pictures and simple digital art, with little additional function or utility.
But the technology behind NFTs also powers smart contracts, which can be used to solve a lot of problems in trust, ticketing, transparency, tracking and custody.
"At some point our IDs will all be NFTs. Our vehicle history, credit history or medical history will be NFTs," said Dimov. "We have so many issues right now with accuracy between one report and another that blockchains can easily solve for. We'll be able to access all of these NFTs using public applications just like the ones we've always had with our smartphones, but we'll be getting to them via a blockchain domain that protects all of that information and stops us from obtaining additional information we shouldn't have."
The technology might also allow individuals, for the first time, to access and hold their personal records as they are updated in real time.
---