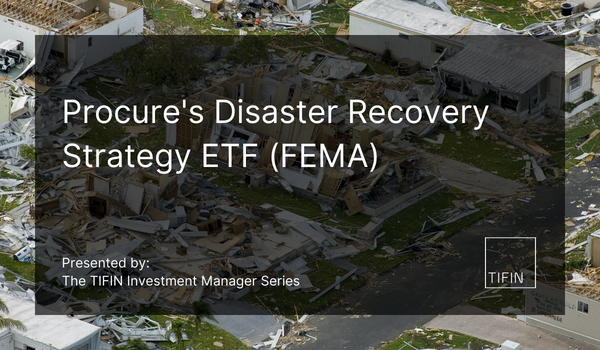 ---
HOSTED by:

Procure's Disaster Recovery Strategy ETF (FEMA)

Recently, there has been an abundance of worldwide natural disasters including the hurricane in Puerto Rico, earthquakes in Mexico, wildfires in California that continue to surge, heavy storms and flooding in Alaska and Pakistan, a typhoon in Japan and heat waves in the US and Middle East.
With natural disasters seeming to only increase in magnitude and prevalence, we sat down with Andrew Chanin, CEO at Procure Holdings, to learn more about their natural disaster recovery ETF, FEMA, and the industry as a whole.
Click Below to View Video:
---
PRESENTED BY:

---

DISCLAIMER: The TIFIN Group LLC (together with its subsidiaries and affiliates, "TIFIN"), and its affiliates, are not a client of PROCURE HOLDINGS. PROCURE HOLDINGS provides cash compensation to TIFIN to be a sponsored fund, which provides greater visibility to PROCURE HOLDINGS' fund. PROCURE HOLDINGSE pays TIFIN a monthly fee for the sponsorship of their fund(s) on TIFIN's platforms and other promotional activities. TIFIN has a financial interest to promote and market investment solutions from PROCURE HOLDINGS that can conflict with the interests of its clients. This material is provided for informational purposes only and should not be construed as individualized investment advice or an offer or solicitation to buy or sell securities tailored to your needs.