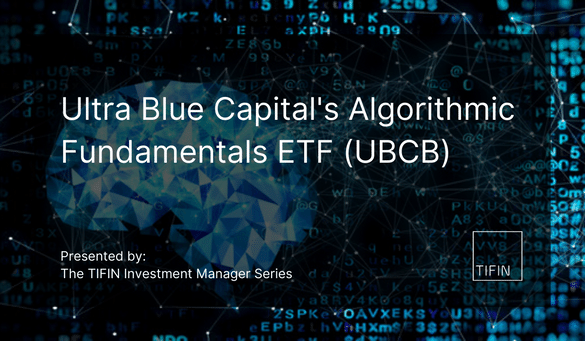 ---
HOSTED by:

Ultra Blue Capital's Algorithmic Fundamentals ETF (UBCB)

With more and more market data available today, it is critical that investors find ways to process and find meaning in that information. We sat down with Pouya Taaghol, PhD, Portfolio Manager at Ultra Blue Capital, to learn more about how they are using artificial intelligence (AI) algorithms to help identify profitable U.S. large-cap companies with the best predicted expanding fundamentals across multiple sectors in their UBCB ETF.
Click Below to View Video:
---
PRESENTED BY:

---

DISCLAIMER: The TIFIN Group LLC (together with its subsidiaries and affiliates, "TIFIN"), and its affiliates, are not a client of Ultra Blue Capital. Ultra Blue Capital provides cash compensation to TIFIN to be a sponsored fund, which provides greater visibility to Ultra Blue Capital's fund. Ultra Blue Capital pays TIFIN a monthly fee for the sponsorship of their fund(s) on TIFIN's platforms and other promotional activities. TIFIN has a financial interest to promote and market investment solutions from Ultra Blue Capital that can conflict with the interests of its clients. This material is provided for informational purposes only and should not be construed as individualized investment advice or an offer or solicitation to buy or sell securities tailored to your needs.