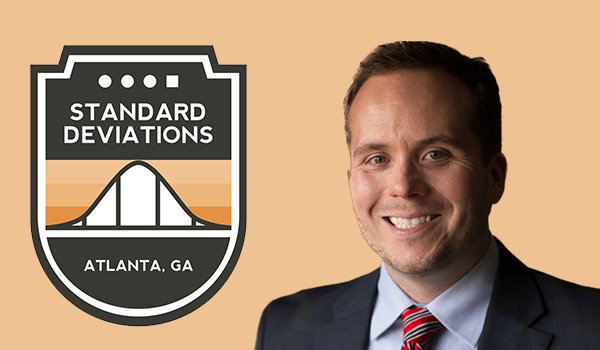 ---
This week on Standard Deviations with Dr. Daniel Crosby, Dr. Crosby speaks with Carl Richards.
Carl Richards is a Certified Financial Planner™ and creator of the Sketch Guy column, appearing weekly in The New York Times since 2010. Carl has also been featured on Marketplace Money, Oprah.com, and Forbes.com. In addition, Carl has become a frequent keynote speaker at financial planning conferences and visual learning events around the world. Through his simple sketches, Carl makes complex financial concepts easy to understand. His sketches also serve as the foundation for his two books, The One-Page Financial Plan: A Simple Way to Be Smart About Your Money and The Behavior Gap: Simple Ways to Stop Doing Dumb Things with Money (Portfolio/Penguin).

Tune in to hear:
Carl Richards speak about serving real financial advisors. This of course presupposes the existence of fake financial advisors, so what's the difference between a real financial advisor and a fake financial advisor?

What practical advice can help one avoid a financial advisor that doesn't have your best interests at heart?

How do we help clients articulate powerful goals that are salient and motivating without falling prey to this trip of false precision?How do we begin to see ourselves as we truly are, allowing us to become better financial advisors?

We have a tendency as a culture to always move the goalpost on what is enough – what can we do to cultivate a spirit of knowing when we have enough?

How might we look at asset classes like cryptocurrencies and NFTs through a behavioral finance lens
Compliance Code: 1688-OAS-5/20/2021
---
ABOUT STANDARD DEVIATIONS PODCAST:
Educated at Brigham Young and Emory Universities, Dr. Daniel Crosby, the personality behind STANDARD DEVIATIONS podcast, is a psychologist and behavioral finance expert who helps organizations understand the intersection of mind and markets.
Dr. Crosby's first book, Personal Benchmark: Integrating Behavioral Finance and Investment Management, was a New York Times bestseller. His second book, The Laws of Wealth, was named the best investment book of 2017 by the Axiom Business Book Awards and has been translated into Japanese, Chinese, Vietnamese and German. His latest work, The Behavioral Investor, is an in-depth look at how sociology, psychology and neurology all impact investment decision-making.