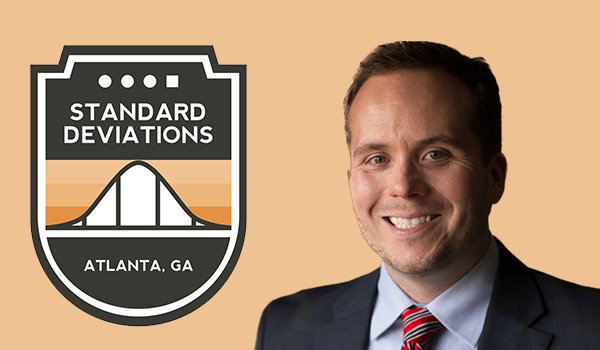 ---
This week on Standard Deviations Podcast, Dr. Daniel Crosby speaks with Eric Clarke of Orion Advisor Solutions.

Eric Clarke serves as CEO for Orion Advisor Solutions (Orion), helping advisory professionals operationalize their vision for success by delivering cutting-edge financial technology and investment management solutions through the organization's brand entities: Orion Advisor Tech, Orion Portfolio Solutions, CLS Investments and Brinker Capital Investments. Prior to his current role, Eric was the founding CEO of Orion Advisor Tech, which he continues to lead, and previously served as COO for CLS Investments. As an industry-recognized thought leader and advocate for advisory professionals, Eric has written numerous articles that have appeared in InvestmentsNews and The Journal of Financial Planning. Eric has received numerous industry awards including ThinkAdvisor's IA25 in 2012 and 2019, and InvestmentNews' Icon & Innovators Award in 2019.
Eric earned his Bachelor of Science in Accounting from Brigham Young University and Master of Business Administration from the University of Utah. As an avid runner, Eric uses the solitude of his runs to think through business strategies and plan new scenarios to help advisors increase functional efficiencies and improve their businesses.
Tune in to hear:
How Orion grew from a family business in middle America to a huge player in the Fintech space
Is asset management a largely solved problem, and where might future innovations take place in the world of asset management?
What unique role will the social sciences play in informing investment strategies?
What might be the role of advisors in the coming years if investment management is a solved, or at least simplified, problem?
In a company with so many moving parts, how does Eric decide where to focus spending to grow?
What is an underdog trend in Fintech with lots of potential?
Do fintech companies have an ethical obligation to focus on UI that leads to prudent client outcomes?
How can CEOs create a culture and maintain both cohesion and influence in the current work from home reality?
Compliance code: 0613-OAS-2/22/2021
---
ABOUT STANDARD DEVIATIONS PODCAST:
Educated at Brigham Young and Emory Universities, Dr. Daniel Crosby, the personality behind STANDARD DEVIATIONS podcast, is a psychologist and behavioral finance expert who helps organizations understand the intersection of mind and markets.
Dr. Crosby's first book, Personal Benchmark: Integrating Behavioral Finance and Investment Management, was a New York Times bestseller. His second book, The Laws of Wealth, was named the best investment book of 2017 by the Axiom Business Book Awards and has been translated into Japanese, Chinese, Vietnamese and German. His latest work, The Behavioral Investor, is an in-depth look at how sociology, psychology and neurology all impact investment decision-making.