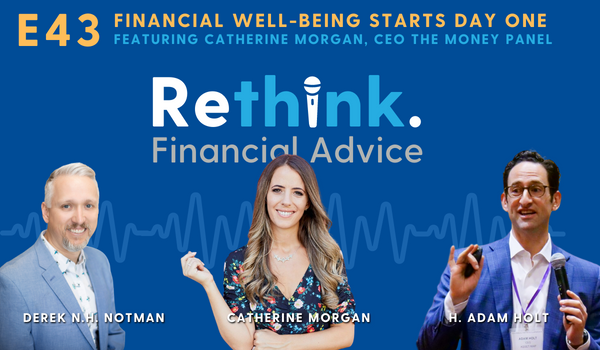 ---

Is financial wellness legit? Traditionally, there's been lots of shame in going to speak with a financial advisor since most of us have had no formal financial education.  But there are positive shifts happening towards behavioral finance that are helping people with their financial well-being.  Join us as we chat with recovered financial advisor turned certified financial coach Catherine Morgan to learn more about how you can incorporate financial wellness into your business and that is should be the starting point, not the end goal for you and your clients.
Catherine, Adam & Derek discuss:
Catherine's own personal trauma with money and a lack of financial wellness

How financial advisors don't need to be therapists but do need to listen and bring awareness to help unlock conversations that will help their clients really connect with their money, clients will remember how you made them feel

Bringing a more sensory experience to your clients with their money

How Money is a mirror of the relationship we have with ourselves

The importance of helping clients feel safe and secure in their here and now, not just pushing happiness into the future

And lots more!
---