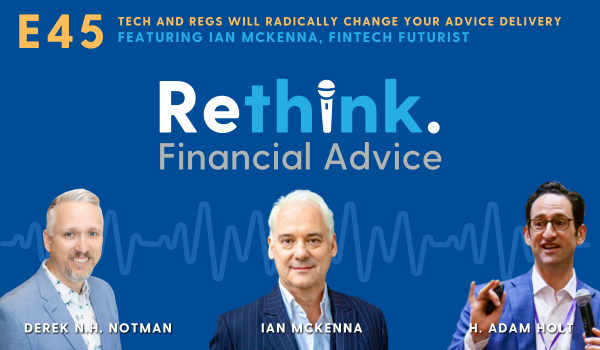 ---

We are on the cusp of major change.  Is virtual reality, AI or Amazon part of your future business plans? Ian's unique perspective is global in nature and arguably one of the most diverse given his extensive travels around the world to see what people are doing, or not, in our industry.  Join us as we chat with futurist Ian McKenna and discuss the future of financial advice delivery and what advisors need to think about to stay relevant today.
Ian, Adam & Derek discuss:
One of the hardest things an advisor needs to do is help clients visualize the lifestyle their preparing for (VR can help do this very easily)

A lot of advisors and the companies they represent are not adapting their commercial models to stay in business 5-10 years from now – it's time to consider reinventing how we charge clients (especially the younger generation)

why is the US life insurance industry is 40 years behind the rest of the world

A symbiotic relationship between regulation and tech needs to exist to really achieve the highest levels of regulation with the latest tech

Amazon insurance already happening in UK (we discussed this over a year ago, it's coming to a computer near your clients)

AI financial advice will be here in less than a decade AND using VR Glasses

And lots more!
---