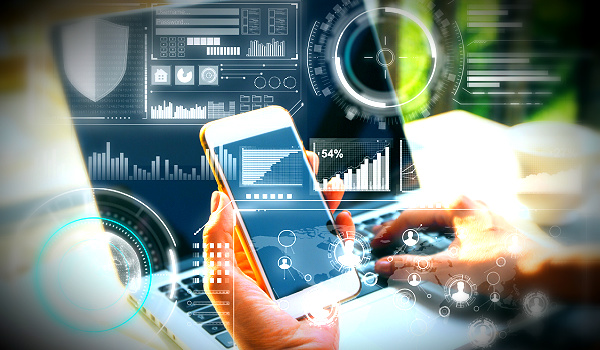 ---
It's finally here—a break in the frenetic pace of technology news in the wealth management space. 
There's still plenty to read about this week, including new announcements from stalwarts like Broadridge, FusionIQ and Apex, and a smattering of news from less-well known and newer firms—but as the U.S. nears its Thanksgiving holiday and the rest of the northern hemisphere winds towards the quieter winter holidays, all of us who follow the space have a wonderful chance to catch our breaths and reflect on where we've been and where we might be going in the new year. 
It's for that reason that towards the end of the year we'll deviate a little from our usual format of fresh wealthtech headlines to discuss some of the biggest stories of the past twelve months—while still keeping you abreast of all the goings on. 
But for this week, we'll tell you about the launch of important new invest-tech platforms and functionalities, a new wealth management platform and upgrades to compliance and retirement income software. Let's get to it.
---
Publisher's Note – After this post was filed on 11/13, news broke on 11/14 that Aaron Klein was stepping down as CEO of Nitrogen.  We've known Aaron since his firm (previously named Riskalyze) was just birthing in ATL and wish him well.  See below for more details on his continuing role at the firm and the new CEO, Dan Zitting.
---
Apex Fintech Solutions 
Apex Fintech Solutions, the fintech for fintechs powering innovation and the future of digital wealth management, today announced AskApex – a new internal AI powered chatbot. Integrated with Slack, AskApex enables Apex employees to find answers to questions related to internal resources, policies, documents, and more. 
AskApex provides employees with a quicker, easier and intuitive way to find information, access documents, and get answers to questions based on our internal documentation, improving productivity and streamlining internal processes while giving employees the opportunity to experience the potential and power of generative AI. AskApex provides a framework for Apex to develop other AI bots to support the enterprise in numerous ways. AskApex is part of an Apex-wide drive to integrate AI including large language models (LLM) and identify how AI can transform everyday work, both for Apex employees and most importantly, clients. It has since inspired the development of over half a dozen new LLM powered assistants and bots that cover a wide range of functionality including API integration, systems monitoring and health, account information. 
Arch 
Arch, a private investment management platform modernizing K-1 workflows, automating operations and simplifying reporting for financial professionals, today announced that it has raised $20 million in Series A funding. This round was led by Menlo Ventures, with participation from existing investors Craft Ventures and Quiet Capital, as well as new investors Carta, Citi Ventures, GPS Investment Partners and Focus Financial Partners. Arch plans to use the new capital to expand its team and enhance its product, with a focus on streamlining the repetitive manual work traditionally associated with investing in and managing alternative investments. 
Arch's next-generation portal currently tracks tens of thousands of positions, encompassing more than $60 billion in investments across the universe of alternative asset classes. Its client- and advisor-facing platform aggregates data and documents across every investment, eliminating the need for users to access third-party portals, and delivers reporting-ready data directly to investors, accountants and advisors. Arch provides intuitive tools for users to review and efficiently manage updates within their portfolios, including new investment opportunities, capital calls, distributions and more. Additionally, Arch collects and aggregates tax documents (such as K-1s) as they are distributed, allowing users to locate these items from a centralized source when tax season arrives. 
Broadridge 
In response to increased demand from asset managers to drive distribution efficiencies and optimize performance in an increasingly competitive environment, global Fintech leader Broadridge Financial Solutions Inc. (NYSE: BR) announces the launch of DistributionAI and Global Demand Model. 
DistributionAI is a digital analyst tool within Broadridge's Distribution Insight platform, which provides access to unique and proprietary global asset management market intelligence and research reports to help asset managers optimize distribution, product development, and sales and marketing. DistributionAI enables natural language interrogation of thousands of specialist proprietary research documents focused on the themes and trends defining success in the global asset management industry. 
Broadridge's new Global Demand Model measures and analyzes demand for asset management products today and in the future. It tracks over $100 trillion of global assets and delivers a total market view of demand, driven by proprietary data across public and private markets, and retail and institutional channels. Global Demand Model uses next generation AI-driven models to understand the relationship between asset flows and thousands of predictive capital market and macroeconomic features, married with human in the loop (HITL) systems from Broadridge's team of global experts. The result equips asset managers with more confidence in the analysis of current and future product demand. 
Era 
Era, an AI-powered wealth management platform making wealth management more accessible, announced its launch and $3.1 million Seed led by Northzone with participation from Protagonist and Designer Fund. Era uses artificial intelligence to personalize wealth management advice and automate financial tasks, ultimately bridging the gulf between financial access and ambition and making wealth management more accessible. 
Era was founded by technology veterans, CEO Alex Norcliffe, and COO Lindsay Brady, who come from modest backgrounds but went on to lead initiatives at the intersection of tech, design and money at Stripe, Square, Apple, and Google. 
Era's AI recommendations are powered by market news and macroeconomic data, so users can be confident that they are getting the most up-to-date and informed advice. While many people find it challenging to manage their finances, build wealth, and live a better life due to a lack of financial expertise or literacy, AI is making it all easier and more streamlined. A survey conducted by One Poll for National Debt Relief found that 40% of Gen Z feels they have the tools they need to get started with good financial habits but have trouble putting them to use. Another study found that Gen Z averages the lowest in answering financial questions correctly compared to older generations; meanwhile, a Bankrate poll showed Millennials are the most likely to have more credit card debt than savings. Nevertheless, the youngest generations are the most eager to increase their financial literacy after the economic uncertainty created by COVID-19. With Gen Z poised to play a driving role in our economy in the next 5-10 years, it's essential they have a strong financial foundation. 
FusionIQ 
FusionIQ, a leader in the delivery of cloud-based wealth management solutions with their all-in-one digital platform for financial advisors and institutions, has announced its strategic partnership with Valley Bank based in New Jersey, with more than 200 branches across six states. 
The Digital Advice platform, a white-label solution that enables Valley to further enhance its brand, offers a 100% digital wealth management experience for customers on both the web and mobile. It can also seamlessly integrate with Valley's customer care team, ensuring that the bank can better serve its mass affluent customer base. 
Valley's partnership with FusionIQ and the Digital Advice platform is designed to further enhance the company's digital wealth experience. FusionIQ's advanced data analytics will strengthen Valley's ability to identify customers with a predisposition to wealth management while delivering tailored solutions to help their customers meet their financial goals. 
The partnership with FusionIQ offers Valley Bank a strategic advantage, with several key benefits. FusionIQ's Digital Advice platform seamlessly integrates with Valley's existing systems and infrastructure, minimizing disruptions and the need for expensive modifications. As a cloud-native platform, FusionIQ One provides scalability to accommodate growing customer volumes, and ensuring efficient utilization of resources. Leveraging cloud technology eliminates the need for costly on-premises infrastructure, providing flexibility, scalability, and advanced cybersecurity with FusionIQ's SOC 2 Compliance. 
IncomeConductor 
IncomeConductor  announced the introduction of IncomeConductor Pro, a groundbreaking addition to its award-winning suite of solutions. The unveiling of IncomeConductor Pro signifies a pivotal step forward in how wealth management firms and advisors help their clients prepare for retirement, redefining the way clients and advisors approach this critical phase of their financial live  
IncomeConductor Pro seamlessly brings together comprehensive retirement data into an interactive, real-time interface, delivering unparalleled clarity and precision to clients while streamlining the advice delivery process. With a focus on actionable insights, easily comprehensible visual aids, and next-best-step solutions, advisors can quickly address their clients' most pressing retirement challenges, delivering superior retirement outcomes. Based on time and motion studies, advisors and their staff save hours in creating plans by using IncomeConductor Pro. 
The Pro editor empowers advisors to actively engage clients in crafting tailor-made, documented retirement plans. This includes the integration of client accounts, contribution strategies, personalized longevity and healthcare expense projections, Social Security optimization, and annuity considerations. Furthermore, by quantifying critical issues such as excess and unfunded income, IRMAA surcharges, and high RMDs and taxes, advisors can promptly explore next-best-step solutions. IncomeConductor Pro also provides advisors with the flexibility to fully customize client reports that align with each client's unique preferences. 
Nitrogen 
Nitrogen has announced the appointment of Dan Zitting as Chief Executive Officer. Zitting is a seasoned executive, known for his former role as CEO of Galvanize and his extensive experience spanning growth, risk and compliance functions. The appointment
completes Nitrogen's next-generation leadership team and sets the stage for further platform expansion and continued scale.
According to the news release, founder Aaron Klein will transition out of operational leadership before year end, continuing to serve on the Nitrogen board of directors, as a champion of Fearless Investing at the 2024 Fearless Investing Summit and as a strategic advisor to Nitrogen's leadership team.
Zitting began his career as a certified public accountant and is a three-time company founder. Among the companies he founded is Workpapers.com, which
was subsequently acquired by Galvanize, and ended his career there as CEO
after a $1 billion acquisition by Diligent. 
In addition to being the firm's largest individual shareholder, Klein will continue to serve on Nitrogen's board of directors, and as a strategic advisor to the Nitrogen leadership team.
SKYVIEW 1 
SKYVIEW 1, Inc., a white-label digital banking platform and affiliate of SkyView Partners, announced the launch of pioneering banking indices. These indices, which track the average interest rate paid on checking and savings accounts by domestic banks, represent a first-of-its-kind development in the industry. Aimed at increasing transparency within the banking sector, they will help financial advisors and their clients to maximize investment opportunities by benchmarking their existing interest rate yield against comparable offerings. 
The SKYVIEW U.S. National Average Checking Interest Index (BNKCHX) tracks the national average interest rate paid on domestic checking accounts. As of Oct 16, 2023, the national average paid on checking accounts is 0.07%. Meanwhile, the SKYVIEW U.S. National Average Saving Interest Index (BNKSAV) provides insight into the average rate paid on domestic savings accounts. As of Oct 16, 2023, the national average paid by FDIC member banks on savings accounts was 0.46%. 
Smartria 
Smartria, a provider of compliance software solutions for financial advisors, announced that Patrick Hunt is stepping into the role of CEO. Hunt takes the helm on the heels of industry veteran David Coyle joining the firm as Chief Revenue Officer earlier this quarter. 
Hunt joins Smartria from Lirio, the leading personalization engine for digital health, where he served in multiple leadership roles, most recently as Chief Evangelist. Among other key initiatives, Hunt led external communications and was directly responsible for Lirio's recognition by top industry analysts and research firms as a market leader. 
Ahead of the SEC's impending cybersecurity rule, Smartria introduced its Cybersecurity Focus solution in partnership with CybersecureRIA to help advisors not only protect their clients and firms, but also mirror the SEC's regulations to ensure compliance.
---