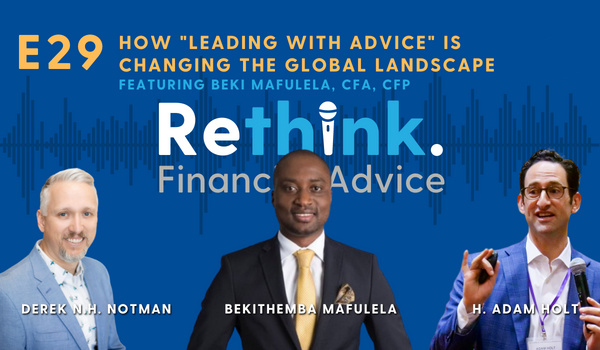 ---

There's a shift underway from product-led sales processes to that of leading with advice and using advice to implement the right products at the right time for the right reasons. It can be argued that the USA has led the global industry & profession but perhaps this is not the case anymore.
Adam Holt & Derek Notman bring on special guest Bekithemba (Beki) Mafulela, formerly head of Retailisation & EB Distribution at Momentum in South Africa. Beki has been in the financial advice space for over 20 years and shares his perspective on the changing financial advice landscape in SA and globally. Beki is currently transitioning into his next endeavor to help drive our industry forward. This podcast episode represents Beki's personal views and not those of Momentum.
Beki, Adam and Derek discuss:
Changes driven by client needs and regulation
New client expectations out of technology advancement
Advisors needing to future proof their value proposition and stay relevant
Advisors should be upskilling their technical advice skills (CFP certification) but also their digital marketing skills to stay top of mind.
The massive void and opportunity created by advisors only focusing AUM fee schedules.
---