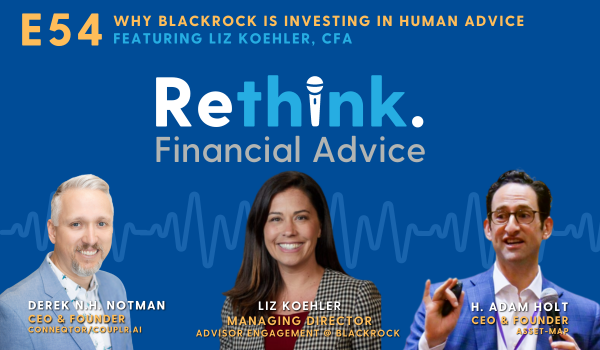 ---

Where is the smart money going?  What is the world's largest asset manager investing in?  With all the talk of companies investing in AI and a variety of asset classes we wanted to see what the biggest asset manager in the world is doing and what we can learn from them.  Join us as we speak with Elizabeth Koehler, Managing Director at BlackRock and Head of Advisor Engagement, to learn about what she and her team are doing to support human advice.
In this episode Liz, Adam and Derek chat about:
The growing importance of human and personalized advice

The need for the human touch is growing

Why empathy, active listening, problem solving and expertise in new areas like family dynamics and teaching teams is so important

Developing people and talent on both a personal and professional level

What Liz and her team are seeing and learning from working with thousands of top producing advisors across the country

The need to evolve your approach for the client of tomorrow

The growing expectations of clients
And more!
---