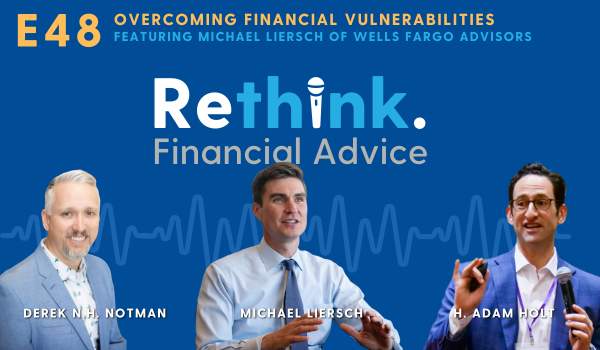 ---

Are financial advisors addressing their client's financial vulnerabilities?  In order for your clients to truly understand and make progress on their financial and life goals we have to help them break through any vulnerabilities they may have when it comes to their money.
Join Derek N.H. Notman, CFP® & H. Adam Holt, CFP®, ChFC® as they speak with special guest Michael Liersch and discuss how difficult it is to talk to clients about their money and how to connect it with great advice engagement and ultimately product placement.
Michael, Adam, and Derek chat about:
Vulnerability of financial conversations (shame/embarrassment/hiding/discomfort/confidence/bias/fear)

The role of deliberative thinking and the important role advisors play

The best definition of what an advisor does for clients

A time tested repeatable process

Speaking a language clients can understand in jobs to be done

And lots more!
---